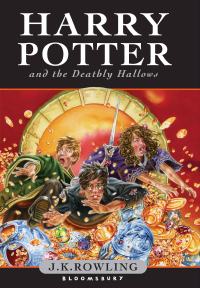 It has been announced that Harry Potter and the Deathly Hallows (the final Harry Potter book) is going to be split in two, with both films being shot back-to-back.
Variety report:
Warner Bros. will split the last "Harry Potter" tome into a two-part film, with the installments unspooling six months apart.

David Yates will direct and Steve Kloves will write both parts, which will be filmed concurrently.

Part one of "Harry Potter and the Deathly Hallows" will bow in November 2010, with the second to debut the following May.

The unusual "Kill Bill" strategy solves a thorny problem for the studio, which had been wrestling with a way to adapt J.K. Rowling's hefty tome and successfully conclude its lucrative franchise, which has generated $4.5 billion at the worldwide B.O. It's not yet clear exactly how studio will split the 784-page book, however.
Given the sheer size of the book, it will be interesting to see how they trim it down.
Why not shoot it as one and then release it as three films?
> Original story at Variety
> The Leaky Cauldron – Harry Potter fan site
> Harry Potter and the Deathly Hallows at Wikipedia and the IMDb