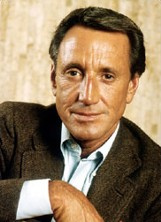 Roy Scheider died yesterday at the age of 75.
Roy Scheider, a stage actor with a background in the classics who became one of the leading figures in the American film renaissance of the 1970s, died on Sunday afternoon in Little Rock, Ark. He was 75 and lived in Sag Harbor, N.Y.

Mr. Scheider had suffered from multiple myeloma for several years, and died of complications from a staph infection, his wife, Brenda Siemer, said.

Mr. Scheider's rangy figure, gaunt face and emotional openness made him particularly appealing in everyman roles, most famously as the agonized police chief of "Jaws," Steven Spielberg's 1975 breakthrough hit, about a New England resort town haunted by the knowledge that a killer shark is preying on the local beaches.

Mr. Scheider conveyed an accelerated metabolism in movies like "Klute" (1971), his first major film role, in which he played a threatening pimp to Jane Fonda's New York call girl; and in William Friedkin's "French Connection" (also 1971), as Buddy Russo, the slightly more restrained partner to Gene Hackman's marauding police detective, Popeye Doyle. That role earned Mr. Scheider the first of two Oscar nominations.
For a generation of people he will be best remembered for his role in Jaws, but he was also memorable in films like The French Connection and All That Jazz.
His most famous line? That would be the one about the size of the boat:
> Roy Scheider at the IMDb
> Dave Kehr's report in the New York Times
> The London Times with an obituary