So, the big story of the night was Atonement winning Best Picture. Or was it Marion Cotillard winning Best Actress? Or was it that fans thought Marion was Kiera Knightley?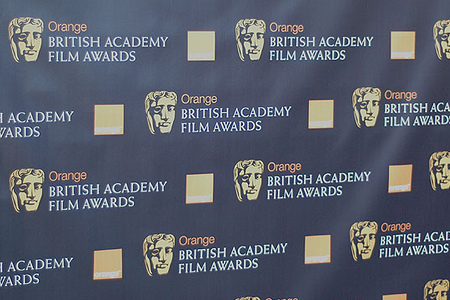 In truth it was a mixed affair, so here are some thoughts:
Atonement didn't deserve Best Picture
Part of me cringed when I read that Atonement had won Best Picture. Not because it is a bad film – in fact, it is a very good one – but because it felt as if BAFTA members voted for it because they felt they had to. After all, it is a British film and happens to be very good. But compared to No Country For Old Men or There Will Be Blood? I'm sorry but there is just no comparison – it just feels the win was a result of BAFTA members going for the easy option of a quality British film over two truly great American ones.
The Best British Film category must go
I'm sure this category was set up to reward British films – nothing wrong with that in principle – but it just looks stupid to have Atonement nominated for Best British Film and Best Picture. It is almost as if BAFTA is going out of its way to give British films a major award. That might sound nice on paper but it just seems demeaning to the films that win or get nominated in this parochial category. This is England and Control deserve recognition but let them compete with the big boys in the Best Picture slot.
The Bourne Ultimatum is not a British film
Having The Bourne Ultimatum up for Best British Film was something of a joke. Not for artistic reasons, as it is a terrific film, but for the simple fact that it is not a British film. I'm sure someone will come up with a technical argument that the production was British based (the interiors were shot at Pinewood and a large section was set and filmed in London), but the fact is that it is was funded and produced by Universal – a major American studio. On the day of the nominations, director Paul Greengrass even admitted on 5 Live that he was surprised by being nominated as a 'British' film.

Marion Cotillard winning Best Actress wasn't that much of a shock
Along with a few other people, I thought Julie Christie was going to win Best Actress but Marion Cotillard was also a strong candidate. Reading through some of the newspapers today you would think the bookmakers were confounded, but anyone with a bit of knowledge knows Best Actress at the BAFTAs was a hard category to call. The Oscars may be even tougher to predict.
They shouldn't be held on the same night as the Grammys
The BAFTAs status has risen in recent years but the schedule clash with The Grammys (the music industry's biggest awards bash) probably doesn't help it get the media attention it deserves. Especially when media magnet Amy Winehouse wins a bunch of trophies.
The Lives of Others should have been nominated last year
One of the signs from the bad old days of the BAFTAs, is when you get films up for nomination a year too late. The Lives of Others was deserving of recognition, but is a 2006 film. The reason it got nominated this year is because the UK distributor (Lionsgate) didn't release it in time before the cut off date in mid-February. Three years ago Million Dollar Baby had a similar problem when it got a raft of Oscar nominations (winning in several key categories) but no BAFTA nominatons at all because it wasn't released in time. This is where distributors need to get their act together, as the BAFTAs can give a real boost to smaller films and it just looks silly when they get nominated a year late. Is it really that hard to send out screeners or release a film before mid-February?
Stephen Fry should come back as a presenter
Jonathan Ross is a talented presenter and whilst many people in the UK media moan about him for getting paid too much, he does have a genuine love for and deep knowledge of films. But something doesn't click when he presents the BAFTAs – Stephen Fry just had a better touch when mixing the serious and comic at an event like this.
The British media should be less parochial
In the last few years the status of the BAFTAs has risen to the point where it is now part of the awards season that culminates in the Oscars. The days when it was in April and awards were seemingly dished out to Brits because American stars couldn't be bothered to turn up seem to be gone (although George Clooney was a notable absentee last night). In short they have become a much more international event that reflect the importance of Britain's role in the international film industry. Why is it then that British media coverage is full of rubbish that Atonement and Kiera Knightley were 'snubbed'? And why, when you turn on the TV, are presenters always talking up the 'British angle' of Atonement? Despite being an early front runner, it was fortunate in the end to even get a Best Picture nomination at the Oscars. Although BAFTA showered it with 14 nominations, I don't seriously think anyone truly felt it would dominate the major categories last night as the field was simply too strong. Kiera Knightley and James McAvoy weren't favourites – they aren't even nominated at the Oscars – so was it really such a great surprise that neither of them won?
Newspapers should use the IMDb
Whilst looking through this morning's newspaper coverage of the BAFTA's and wading through the 'Atonement snubbed' angles I noticed that the Daily Mail (that's the 2nd biggest selling newspaper in the UK) seemed to think that No Country For Old Men was about:
"drugs running in southern America"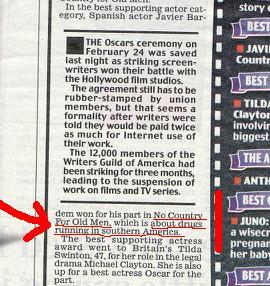 It may just be their strange choice of language that's confusing me here, but the basic plot is actually about a drugs heist gone wrong in West Texas.
Were they so concerned with Kiera's dress that they couldn't ring up their film critic Christopher Tookey – or even use the IMDb – to check what the film was about?
Roger Deakins deserved more attention
After all the tutting over Kiera, if the media really want to celebrate a Brit, then what about cinematographer Roger Deakins who won for No Country for Old Men last night? His role may not be as glamorous, but his work this year on the Coen Brothers' film and The Assassination of Jesse James was simply world class. In fact his contributions over the years to films like The Shawshank Redemption, Fargo, Kundun and The Man Who Wasn't There are worthy of some kind of special lifetime achievement award.
The awards should be shown live on TV
Whenever I say this to people they look surprised as the ceremony has the appearance of being live on TV. But it isn't. In fact the awards are finished before the TV show begins and the media know who the winners are. The results are then embargoed till 9pm, but if you were watching BBC1 last night and checked the Internet – or turned on a radio – whilst the show paused for the news, you could find out who the winners were. Some websites even had the winners up just after 8pm. So why aren't they live? Obviously, it makes it easier for TV to edit out the lesser known awards (Ricky Gervais joked last night that the short film categories he was presenting wouldn't even make the TV cut) and create a slicker show to fit into a neat time slot. You might remember Russell Crowe got upset in 2002 when the BBC cut out a poem from his winning speech for A Beautiful Mind. But if the Oscars are live, then why can't the BAFTAs follow their lead? Although viewers probably aren't that excited by the lesser known categories, it makes the bigger categories more exciting to wait for and there is a simply a tension to live TV that is unique.
What did you think of the BAFTAs? Post your thoughts below.
> BBC News with all the BAFTA winners
> Stephen Brook of MediaGuardian on what went wrong with the TV show
> The Daily Mail report on the BAFTAs and tell us that No Country for Old Men is about 'drugs running in Southern America'
> Danny Leigh of The Guardian with some sensible thoughts on the night