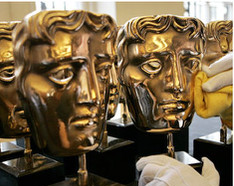 Here are tonight's major BAFTA winners:
BEST PICTURE
Atonement
BEST ACTOR
Daniel Day Lewis (There Will Be Blood)
BEST ACTRESS
Marion Cotillard (La Vie en Rose)
BEST DIRECTOR
Joel and Ethan Coen (No Country for Old Men)
BEST SUPPORTING ACTOR
Javier Bardem (No Country for Old Men)
BEST SUPPORTING ACTRESS
Tilda Swinton (Michael Clayton)
BEST BRITISH FILM
This is England
Other notable winners were:
Best Film Not in the English Language was won by The Lives of Others.
Best Original Screenplay was won by Diablo Cody for Juno.
Best Adapted Screenplay award went to Ronald Harwood for The Diving Bell and the Butterfly.
Best Animated Film was won by Ratatouille.
Special Visual Effects was presented to The Golden Compass.
Writer Matt Greenhalgh won The Carl Foreman Award for Special Achievement by a British Director, Writer or Producer for their First Feature Film for Control.
The Pearce Sisters won the Short Animation award.
Best Short Film award was presented to Dog Altogether.
Property Master Barry Wilkinson was presented with the award for Outstanding British Contribution to Cinema. Barry's credits include Indiana Jones, Titanic, Four Weddings and a Funeral, The Fifth Element, and the Harry Potter films.
The Orange Rising Star Award was presented to Shia LaBeouf.
The winner of 60 Seconds of Fame, BAFTA and Orange's short film initiative, was announced earlier this afternoon in front of a big screen in Covent Garden Piazza. The winning film, United (Polar Showtime Dancers) was created by Cheryl Marshall from the East Midlands.