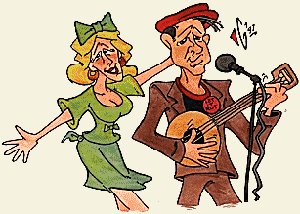 This week sees the release of a new batch of Monty Python DVD titles including Monty Python's The Life Of Brian: The Immaculate Edition and Monty Python Live At The Hollywood Bowl.
I recently spoke to Neil Innes and Carol Cleveland about the DVD releases and their roles in the world of Monty Python. Both worked closely with the legendary comic outfit on numerous projects.
Neil played a major role in performing and writing songs and sketches for Monty Python's Flying Circus, wrote the songs for Monty Python and the Holy Grail, and appeared in the film as a head-bashing monk, the serf crushed by the giant wooden rabbit, and the leader of Sir Robin's minstrels.
He also performed with the Pythons on stage, including at their legendary Hollywood Bowl concert where he performed the songs "How Sweet to Be an Idiot" and "I'm the Urban Spaceman." He would go on to work with Eric Idle on the Python-esque sketch show Rutland Weekend Television, which spawned The Rutles (the "prefab four"), a Beatles parody band, in which Innes played the character of Ron Nasty.
Carol performed various roles with the Pythons in "Monty Python's Flying Circus", Live at The Hollywood Bowl, Life of Brian, and Monty Python and the Holy Grail and has been referred to as "The Female Python".
Have a listen to our interview here:
[audio:http://www.filmdetail.com/podcast/get.php?fla=podcast-2007-11-09-24557.mp3]


> Download this interview as an MP3 file
> Neil Innes and Carol Cleveland at the IMDb
> Pythonline