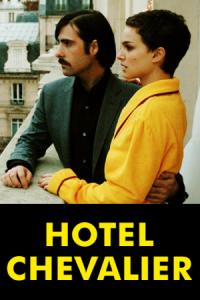 Good news for Wes Anderson fans. The short film Hotel Chevalier will screen ahead of UK showings of The Darjeeling Limited when the film opens in a couple of weeks.
Here is the official press release:
Wes Anderson's short film HOTEL CHEVALIER will screen in cinemas across the UK with THE DARJEELING LIMITED, when it opens on November 23rd, through Twentieth Century Fox.

The brief coda to a doomed romance and the prologue to THE DARJEELING LIMITED, the 12-minute HOTEL CHEVALIER is set in a hotel room in Paris, and stars Jason Schwartzman and Natalie Portman.

Since its release in the US, THE DARJEELING LIMITED has been performing extremely well at the box office and continues to expand into more screens.

HOTEL CHEVALIER was originally available exclusively as a download on the Apple site in the US. According to recent US press reports, download numbers were close to 500,000, making it one of Apple's most successful ever.

In THE DARJEELING LIMITED, three American brothers who have not spoken to each other in a year set off on a train voyage across India with a plan to find themselves and bond with each other – to become brothers again like they used to be.

Their "spiritual quest", however, veers rapidly off-course (due to events involving over-the-counter pain killers, Indian cough syrup, and pepper spray), and they eventually find themselves stranded alone in the middle of the desert with eleven suitcases, a printer, and a laminating machine.

At this moment, a new, unplanned journey suddenly begins. Owen Wilson, Adrien Brody and Jason Schwartzman star in this film about their adventure and their friendship.
After seeing The Darjeeling Limited with Hotel Chevalier attached I was a little puzzled that they initailly released it in the US without it.
But I'm glad they've decided to put them together as they fit perfectly and it adds a little extra to the film as shorts are a little unusual these days in front of mainstream features.
> Check out our LFF review of The Darjeeling Limited
> Official site for the film