This week the cinema releases under the microscope are Lions for Lambs, Into the Wild and Planet Terror.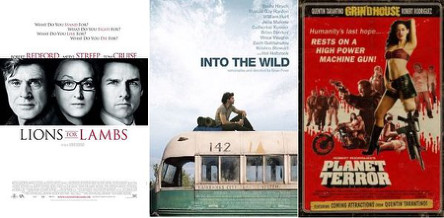 Lions for Lambs is a drama dealing with the current war on terror by focusing on three interconnected stories: a Senator (Tom Cruise) briefs a journalist (Meryl Streep) about a new government strategy for Afghanistan conflict; a college professor (Robert Redford) tries to awaken a promising but apathetic student (Andrew Garfield); and two US soldiers (Michael Pena and Derek Luke) become stranded on an Afghan mountain.
Into the Wild is Sean Penn's fourth film as a director and tells the true story of Christopher McCandless (Emile Hirsch), who dropped out of his middle class background to wander the US for two years, before living in the wilds of Alaska. Along the way he meets a variety of characters amidst the backdrop of the American landscape. Catherine Keener, Hal Holbrook, Jena Malone, Marcia Gay Harden and William Hurt co-star.
Planet Terror is the other half of the Grindhouse project, where Robert Rodriguez teamed up with Quentin Tarantino to make a double bill of exploitation-style films. Sadly, the film was split in two after a disappointing run at the US box office. Death Proof was the Tarantino film and now Rodriguez's is released here. It is the tale of a mysterious green mist that turns a Texan town into zombies and a group of survivors (that includes Rose McGowan, Freddy Rodriguez and Michael Biehn) who must escape.
Listen to our reviews by clicking below:
[audio:http://www.filmdetail.com/podcast/get.php?fla=podcast-2007-11-09-20260.mp3]
Download and subscribe to the review podcast via iTunes by clicking on the image below:
> Download this review as an MP3 file
> Get the local showtimes via Google Movies
> Check out other reviews of these films at Metacritic