This week, we take a look at two films which screened as part of the London Film Festival and go on general release this weekend.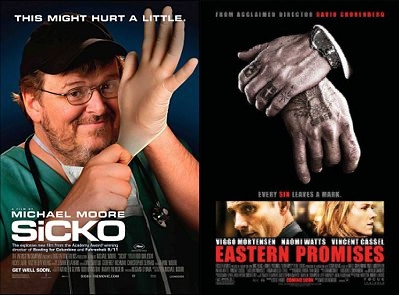 Sicko is the new documentary from Michael Moore and it explores the health care system in the United States.
It follows Moore as he travels the country exploring various horror stories involving health insurance companies and documents his trips to Cuba, England and France where he compares their health care systems to the one back home.

Eastern Promises is the latest film from director David Cronenberg and is a drama set amongst the dark world of Russian gangsters in contemporary London.
Naomi Watts stars as a midwife who discovers a Russian crime family after a girl dies in her hospital. Viggo Mortensen, Vincent Cassell and Armin Mueller-Stahl co-star.
Listen to this week's reviews by clicking below:
[audio:http://www.filmdetail.com/podcast/get.php?fla=podcast-2007-10-26-87040.MP3]
Download and subscribe to the review podcast via iTunes by clicking on the image below:
> Download this review as an MP3 file
> Get the local showtimes via Google Movies
> Check out other reviews of these films at Metacritic