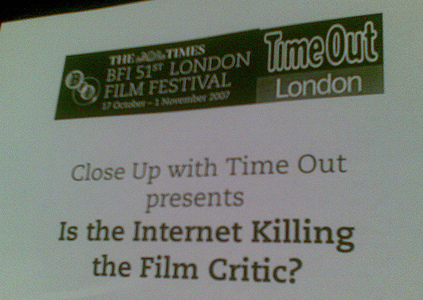 Last night at the festival I went to one of the Time Out debates entitled Is the Internet Killing the Film Critic?
I was a little apprehensive about the actual premise. Was this just going to be another old media versus new media debate? Haven't they already been exhausted?
It was officially billed in this way:
The internet is credited with globalisation and the democratisation of information, enabling anyone and everyone with access to a computer can share their views on an unending number of subjects.

Films seem to attract an especially large amount of public review in the way of forums, blogs and ratings via a variety of online platforms.

With this surfeit of popular opinion does the critic's voice get lost in the crowd? This panel discusses whether the internet revolution has spurred a crisis in criticism and if so, for better or worse?
So, an old debate if you've been reading sites like Buzz Machine by Jeff Jarvis or even newspapers like The Guardian. But perhaps some new ideas and perspectives would be raised in the course of the discussion.
Given that I have a foot in the old and new media camps I went along intrigued as to what would be raised. The panel consisted of three journalists from traditional media and and two from new media.
It was chaired by Leslie Felperin, who currently reviews films for Variety and numerous other outlets including the Radio Times, Heat and Sight and Sound.
The panellists were:
Peter Bradshaw – Film Critic for The Guardian since 1999.
James Christopher – Chief Film Critic for The Times since 2002.
Steve Hornby – Senior Producer for BBC Movies, the film review and listings service on digital TV, web and mobile.
James Fabricant – Director of Entertainment and Head of Video, Europe, for MySpace.
Leslie started off by asking the panel for their views and then the debate went over to the audience. She was mentioned notable "movie bloggers" like David Poland and Jeffrey Wells – and generally seemed to be more clued up than the others about film writing online.
She correctly noted about how Variety's website used to be terrible but has improved greatly. There was a brief mention of the subscription wall coming down before it shifted to the others on the panel. Overall Leslie was a good chair – clearly knowledgeable, fair and keen for contributions from the floor.
Peter started off by saying he's been to a lot of these kind of debates and was refreshingly open about the possibilities the internet offered in changing the nature of film criticism.
He mentioned his recent piece about the 100 Movies Mashup on YouTube and how that kind of thing is being produced by the public rather than mainstream media. The Guardian could be doing stuff like that he said, but although it has the manpower it is often the case that great ideas come from unlikely sources.
I think he was being a little hard on his newspaper here. They have been by far the most innovative national newspaper (in the UK at least) in putting their content online, in a variety of different ways. Their role isn't necessarily one of a producer but a filter of what's good and bad. For example, I like the way they put their more traditional features and reviews alongside things like The Clip Joint.
He clearly understands and gets the online/blog world but at the same time seemed unsure of how it fitted in with his 'traditional' role as the film critic for a national newspaper. My feeling here is that there is a clearly a role for traditional critics if they are good enough and open to writing online.
The audience isn't just there to be told what's good and bad but can often be a tool in making you smarter and aware of things that you didn't know existed. I like the comment sections on Guardian Unlimited as they often contain some very useful links to other sites and often open up another debate. Whilst there will always be trolls and mischief makers, the hassle is worth it if your audience is more engaged and part of the conversation.
One point he raised later on is that now critics are now being criticised, which is a shift from the old days of newspapers. But it seemed part of him enjoyed that aspect of what he does now and that it is only fair that critics be subject to the same scrutiny they themselves apply to films. He also seemed genuinely curious as to what sites the audience used.
Which brings us on to James Christopher, who seemed to be comically dismissive with film writing online. He started of by saying that the web guys at The Times had set up an email address for him so that readers could contact him. Apparently he has around 7,000 unanswered emails (!), which is some sort of record over at Wapping.
I don't know whether this was a joke but it seemed odd that he wouldn't want to engage with his readers. Whilst it's true that you will always get some cranky emails surely it is a good idea to engage with your audience. After all they are the ones who are actually taking time to read your paper or visit your website. He seemed totally lost even when Bradshaw was bringing up basic things like YouTube and how to check out interesting videos online.
When the conversation shifted to social networking sites and the importance of users telling their friends about films they liked he seemed very dubious. I think he missed the point here as it isn't as though reactions on MySpace or Facebook will necessarily replace traditional reviews – surely it is just another outlet for people to communicate.
Steve Hornby from BBC Movies responded by saying that the user was actually very important for them. The trend now is to try to emphasise their role in reviews. This makes sense for them, as they have a licence fee funded duty to involve their audience but also because it will make it a better site overall. It certainly seemed to chime in with what director general Mark Thompson has said in the past about Web 2.0 and interactivity.
James Fabricant from MySpace also echoed these thoughts about the importance of the user and what people can actually do online now. It is more than just reading text – which I guess was a reference to things like posting video reviews and then having people reply with their own videos.
James Christopher also mentioned his background as a theatre critic and compared it to film criticism. The key difference he noted was that a review of a film is of much less consequence to the industry as everyone has already been paid. In theatre and the live performing arts like opera and ballet, productions and jobs can depend on reviews.
By the end of the debate he seemed more open about film writing online (maybe his earlier comments were meant to be jovially provocative) and he acknowledged that technology is changing his role. He also remarked on how The Guardian has raised the bar for other newspapers and has led the way in putting their content online.
When the talk shifted to the floor it was interesting to see that one person recorded it on their mobile and one guy in front of me was checking out sites that were mentioned on his Mac (thanks to the BFI Southbank wi-fi).
There was actually quite a lot of people there and I sensed that a lot of different people came to it with different expectations. Maybe the nature of the debate was such that it went off into different tangents – at one point some one even brought up the very nature of criticism itself.
One guy seemed a little irate at James Christopher's dismissal of social network users as reviewers and put forward his take on the wisdom of crowds argument. He said that he would always trust "10 people in a room" over 1 critic. I think this line of thinking has its good and bad points. On the one hand, I would always favour sites like Metacritic over a single reviewer, but at the same time just because you disagree with a critic doesn't make his take on a film redundant.
Someone like Anthony Lane of The New Yorker isn't someone I usually agree with – mainly because his reviews often seem like elaborately constructed jokes revealing his distaste for cinema – but reading him gives you another angle on a film that is different from Roger Ebert, Kenneth Turan or Harry Knowles. Surely the beauty of the web is the ability to gauge as many opinions as you like?
One audience member who worked for a film distributor I think – Marie Foulston from Soda Pictures – said that certain sites were useful in how they wrote around movies with comments on posters and trailers, which I thought was a sound point. The site she mentioned was Solace in Cinema (the guy with the Mac then immediately surfed to it) and it is a good example of a blog that provides a lot of commentary about the film going experience – checking out trailers, clips posters and feelings about upcoming releases.
For distributors I guess these sites are valuable because they are more reflective of what a lot of film fans think. The national newspaper critics have a very different experience, often seeing weekly releases back to back every Monday and Tuesday with a review that then goes out on the Thursday or Friday. Just by virtue of the fact that they are paid to see – rather than paying to see – films gives them a different perspective.
Peter Bradshaw conceded this point and said that it doesn't really matter if people see films before him. One audience member then shot back by asking how could the general public (or even people who wrote online outside the media loop of mainstream critics) see films before the release date? I then chipped in by saying that preview screenings for online outlets were held for 300 and that maybe in future they would do more of this, depending on the film and what demographic they are chasing.
Leslie asked what sites people use to find out about films and reviews. A guy behind me said Green Cine Daily was good and one girl on the front row said that she always checks out the message boards of the IMDb. Another said Rotten Tomatoes and the guy with the Mac mentioned his website (I cant remember the title or URL) and how his community of friends/associates on it are important even if its not a massive amount of users.
James Christopher asked how do people find out about these sites and Leslie said that often the links on the sidebar direct you to other sites. But I guess for some that is a bit of a chicken and egg situation because if you don't know about the good sites to begin with then it could be a little difficult. I would humbly suggest looking at my old post about useful film websites and checking the links on my sidebar.
One person then asked what qualifications were needed to be a film critic – which provoked an interesting reaction from panel. They mused on how most film writers have possibly done film studies but unlike other reporters there is no 'practical experience' of film writers. Is this a good or bad thing? Bradshaw then mentioned that he did all sorts of reporting before writing about film.
He also made the point that it was interesting that the debate about online film writing seemed louder and bigger than say online music writing – which surprised him given that the music industry is experiencing much greater upheavals than the film industry. Leslie seemed to think that film was a more open and popular meduim which more people have an opinion about. I suppose that film has less subsections than music – you basically have popular and arthouse cinema whereas music has all sorts of subgenres (e.g. Pop, Rock, Jazz, Classical etc), but that could probably be another debate itself.
A Greek girl in the audience said that when she used to find out who was the top critic in the top paper but when she came to England she didn't know who the top English critics were so now she just Googles stuff online.
Overall, it was an interesting session with some solid contributions but I think the premise should have been more about how the web is changing criticism rather than killing it. There will always be critics but I guess the question is who will they be and how will people be reading and engaging with them?
Post your thoughts below or if you were at the debate you can even leave a comment on the LFF event page.
N.B. I would have recorded it but the PA system wasn't the best and it wouldn't pick up well enough to put up here as an MP3. I did see a mixing desk there, so if anyone has a link to the recording then do leave it in the comments section or email me.
*UPDATE*: Thanks to Marie from Soda Pictures for getting in touch and identifying herself! (If anyone else who I didn't mention by name was there, just let me know.)
> Find out more at the official London Film Festival site
> Check out Time Out's blog of the festvial
> An old post by me last year about bloggers and critics
> Variety's Peter Bart trying to define the movie blogosphere back in May
> Anne Thompson of Variety on how blogs have reshaped film coverage
> A list of film blogs at About.com