Today we look at The Diving Bell and the Butterfly, which was on tonight in the Time Out special screening.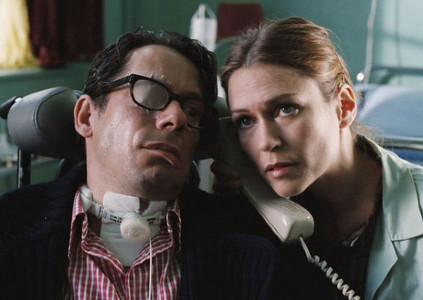 It is the story of Jean-Dominique Bauby, a former French journalist and editor of Elle magazine who was paralysed by a stroke at the age of 43.
Although he could only movie his left eye, he managed to write a memoir of his condition through a system of blinking to nurses and interpreters.
Director Julian Schnabel (who made Before Night Falls in 2000) won Best Director at Cannes earlier this year and it stars Mathieu Amalric, Emmanuelle Seigner, Marie-Josée Croze and Max Von Sydow.
Interestingly, there is a big Steven Spielberg connection with this film. Not only is it produced by Kathleen Kennedy and shot by Janusz Kaminski (two longtime Spielberg collaborators) but Amalric and Crozee were both in Munich.
The film opens in the UK on February 8th.
Listen to our review by clicking below:
[audio:http://www.filmdetail.com/podcast/get.php?fla=podcast-2007-10-21-20496.mp3]
Download this review podcast via iTunes by clicking on the image below:
If you have any questions about this year's festival feel free to get in touch via email or the contact page.
> Download this update as an MP3 file
> Find out more at the official London Film Festival site
> Visit the official website for The Diving Bell and the Butterfly
> Find out more about the film at the IMDb
> Check out Time Out's blog of the festvial