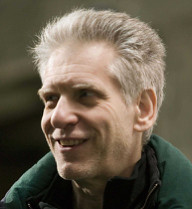 David Cronenberg has been exploring the darker edges of human nature for over 30 years and his latest film Eastern Promises opens the London Film Festival tonight.
He first came to prominence in the 1970s with films such as Shivers (1975) and Rabid (1977) and in the 80s broke through in to the mainstream with memorable films such as Scanners (1981), Videodrome (1983), The Dead Zone (1983), The Fly (1986) and Dead Ringers (1988).
Since the 1990s he has attempted ambitious literary adaptations with Naked Lunch (1991), M. Butterfly (1993), Crash (1996), eXistenZ (1999) and Spider (2002).
Two years ago, he made A History of Violence which starred Viggo Mortensen as a man whose mysterious past comes back to revisit him. It gained a number of richly deserved awards and critical plaudits.
Eastern Promises also stars Mortensen in the lead role. However, this film explores the murky world of the Russian Mafia in London after a midwife (Naomi Watts) finds the diary of girl who has died in her hospital.
I spoke with David today just a few hours before his latest film opened the festival and you can listen to it below:
[audio:http://www.filmdetail.com/podcast/get.php?fla=podcast-2007-10-17-72727.mp3]
To download this as a podcast via iTunes just click the image below:

Eastern Promises opens in general release in the UK on Friday 26th October
Note: The football match we mention at the end of the interview finished Russia 2-1 England
> Download this interview as an MP3
> Check out listing and events via the official site for the London Film Festival
> Official site for Eastern Promises
> Reviews for Eastern Promises at Metacritic
> Find out more about David Cronenberg at Wikipedia