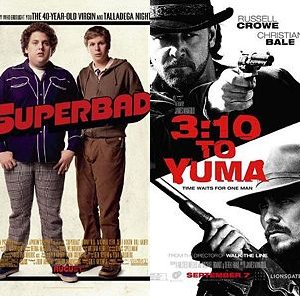 On this week's cinema review we examine:
Superbad – The latest comedy from the Judd Apatow comedy factory is about 3 US teenagers trying to buy beer in order to get to a party. Greg Mottola directs from a script by Seth Rogen and Evan Goldberg.
3.10 to Yuma – A remake of the 1957 western, with Christian Bale and Russell Crowe in the lead roles whilst James Mangold directs.
Disturbia – A modern update of rear window with Shia LaBeouf as a teenager who suspects that his sinisnter neighbour (David Morse) may be up to no good.
Shoot Em Up – A madcap action film with Clive Owen as an enigmatic hitman caught up in the middle of a political conspiracy. Paul Giamatti and Monica Bellucci co-star whilst Michael Davis directs.
Listen to the review podcast here:
[audio:http://www.filmdetail.com/podcast/get.php?fla=podcast-2007-09-14-25344.mp3]
Subscribe to the review podcast via iTunes:

All these films are out at UK cinemas from today
> Download this review as an MP3 file
> Get the local showtimes via Google Movies
> Check out other reviews of these films at Metacritic