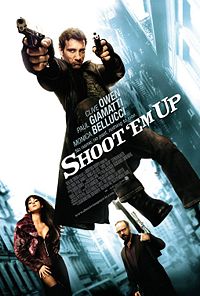 Shoot Em Up is a new action film starring Clive Owen as a mysterious hit man who becomes involved in a political conspiracy after saving a baby from a shoot out.
Directed by Michael Davis it is a fast and furious thriller in the style of John Woo's early films.
It also stars Paul Giamatti as his nemesis and Monica Bellucci as a prostitute caught up in the crossfire.
I spoke to Clive recently about the film and about other projects he has coming up.
Listen to the interview here:
[audio:http://www.filmdetail.com/podcast/get.php?fla=podcast-2007-09-14-14014.mp3]
To subscribe to the Interview Podcast via iTunes just click the image below:
Shoot Em Up is out at UK cinemas now
> Download the interview as an MP3 here
> Check out the official website for Shoot Em Up
> Shoot Em Up at the IMDb
> Get local showtimes for the film via Google Movies