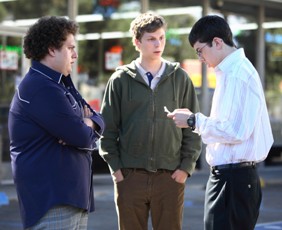 Superbad is out in the UK this week and I recently spoke to the three lead actors in the film: Jonah Hill, Michael Cera and Christopher Mintz-Plasse.
I spoke about the comedy in the film, the rise of producer Judd Apatow, what 'McLovin' is, how this is different from other teen movies and a good deal of other stuff too.
One of the funniest comedies to come out this year it follows three high school geeks as they struggle to buy booze for a party at which they hope to get laid. But after one of them comes up with a bad fake ID their evening spirals out of control.
Seth Rogen (who you may have seen in Knocked Up earlier this summer) stars in a supporting role as a cop and he also co-wrote the script with Evan Goldberg. Judd Apatow produces whilst Greg Mottola directs.
Listen to the interview here:
[audio:http://www.filmdetail.com/podcast/get.php?fla=podcast-2007-09-14-26432.mp3]
To subscribe to the Interview Podcast via iTunes just click the image below:
Superbad is out now at UK cinemas
> Download the interview as an MP3 file
> Check out the official Superbad website
> Read other reviews of Superbad at Metacritic
> Get showtimes for Superbad via Google Movies