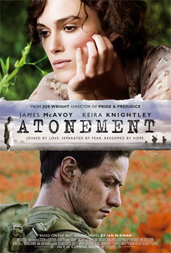 This week we examine Atonement, the adaptation of Ian McEwan's bestselling novel about love, loss and guilt during World War 2.
When a young girl named Briony Tallis (Saoirse Ronan) misunderstands the relationship between her elder sister Cecilia (Kiera Knightley) and her lover Robbie (James McAvoy) she sets in motion a devastating sequence of events for all three characters.
As the story moves from the hot summer of 1935, through to the evacuation of Dunkirk and eventually to 1999 we see how a simple lie reverberates over many years.
Director Joe Wright follows up 2005's Pride and Prejudice with this highly accomplished adaptation that also stars Romola Garai and Vanessa Redgrave. The film recently opened the Venice Film Festival and looks like it will be a contender in the upcoming awards season.
We also take a look at the new Simon Pegg comedy Run, Fat Boy, Run which co-stars Thandie Newton and was directed by David Schwimmer.
Listen to the review podcast here:
[audio:http://www.filmdetail.com/podcast/get.php?fla=podcast-2007-09-07-26750.mp3]
To subscribe to The Review Podcast via iTunes just click the image below:
Atonement is out at UK cinemas from today
> Download this review podcast as an MP3 file
> Official site for Atonement
> Get local cinema times for Atonement via Google Movies