The line between music and movies and how we watch them gets blurrier today with the launch of the iPod Touch – which is the new widescreen iPod.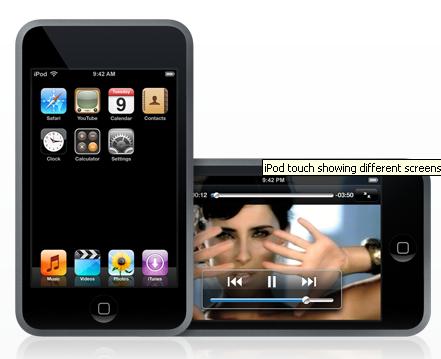 Engadget have all the latest details:
Well, what do you know. Turns out the iPod Touch is a reality after all. While we initially assumed that Mr. Jobs wouldn't be so kind as to bless us all with two new full-fledged iPods in a single day, we're elated that he had other ideas.

The new flagship iPod has "the same size screen as the iPhone, but it's even thinner" (eight-millimeters, for those taking notes), and it also touts the "same multi-touch interface" found on the the firm's handset. Additionally, it boasts a 3.5-inch widescreen display, the ability to "flick through your photos," and you even get the "slide to unlock" feature, too.

And yes, this thing actually has WiFi. Of note, the built-in wireless antenna (shown after the jump along with a few other pics) isn't exactly attractive, but if it means that we can surf the web on our iPod, we suppose it may be an acceptable flaw.
It is amazing to conisder what this device has done for Apple since the low key beginnings in 2001. iTunes and the iPod have reshaped the music industry and are making major headways into TV and the movies (despite the dumb move by NBC last week).
Films will still be watched primarily on a cinema screen and on TVs for a good few years to come but Steve Jobs and his Cupertino cohorts will continue to have a profound affect on how we buy and watch entertaiment if they keep up this level of innovation.
> Check out the latest at the Apple Store
> Gizmodo have their take
> See what the Wikipedia entry for the iPod Touch is looking like