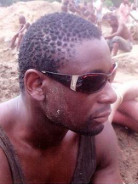 British actor David Harewood has starred in recent films such as Separate Lies (2005) and The Merchant of Venice (2004) as well as TV shows like Silent Witness and Babyfather.
But more recently he played Captain Poison in Blood Diamond which is out this week on DVD from Warner Home Video.
I spoke with him about the film and his experiences on it.
Listen to the interview by clicking here:
[audio:http://www.filmdetail.com/podcast/get.php?fla=podcast-2007-06-18-25948.mp3]
To subscribe to The Interview Podcast via iTunes just click the image below:
> Download the interview as an MP3 file (just right click, save as and rename the file)
> David Harewood at the IMDb
> Buy Blood Diamond on DVD from Amazon UK