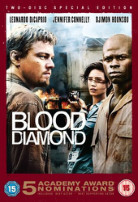 Blood Diamond (18)
A drama set amidst the conflict in Sierra Leone in the late 90s, this drama sees Danny Archer (Leonardo DiCaprio), a mercenary turned diamond smuggler, cross paths with a Mende fisherman (Djimon Honsou).
He has come across – and hidden – a large diamond before being imprisoned as a rebel. Along with a US journalist (Jennifer Connelly) they are all drawn into the murky world of the African diamond trade. David Harewood and Arnold Vosloo also co-star.
Directed by Ed Zwick.
Matt Damon stars as one of the founders of the CIA in this Cold War drama directed by Robert De Niro.
Depicting the paranoia and intrigue of the era it examines the murky world of US foreign policy and the toll it takes on those involved.
Angelina Jolie, William Hurt, Joe Pesci and De Niro himself co-star and the screenplay (which has been around since the mid-90s) is by Eric Roth.
This 1971 cult road movie sees James Taylor and Dennis Wilson as two drifters racing people (such as Warren Oates) across the US.
Similar in feel to other road movies of the early 70s like Vanishing Point and Electra Glide in Blue it is worth checking out just to see wheter it lives up to its exalted status.
Directed by Monte Helman it has been unavailable on DVD up until now.
Listen to The DVD Review Podcast by clicking here:
[audio:http://www.filmdetail.com/podcast/get.php?fla=podcast-2007-06-18-22288.mp3]
To subscribe to The Review Podcast via iTunes just click the image below:
> Download The DVD Review as an MP3 file (just right click, save as and rename the file)
> Check out the latest DVD releases at Amazon UK
> Get more DVD reviews over at Metacritic