About three weeks ago I got an invitation to test out the Beta version of the BBC iPlayer, which is their proposed Video On Demand service.
I was eager to see what it looked like and how it worked, so here are some thoughts and screenshots on what the initial experience was like for me.
1. The Sign In: Firstly, I got to the home page and had to login twice – once to a BBC account and then to an iPlayer account, which seemed a little unnecessary.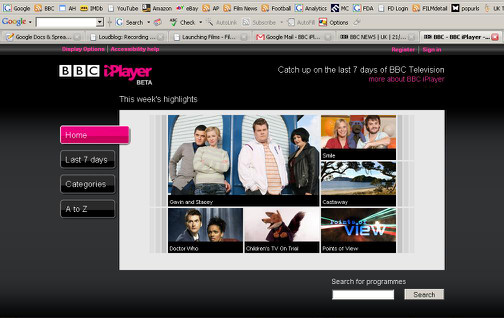 Maybe this was just part of the trial, but it was a little off putting.
2. Software Requirements: Unfortunately you have to use Internet Explorer, which is not good. Why on earth has the BBC made IE mandatory for the iPlayer? It is clunky, slow and although it has the biggest market share, surely the BBC should open to other browsers like Firefox?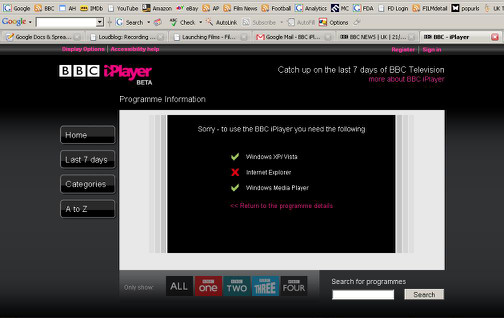 I guess it is a DRM issue but shouldn't BBC be building a more open system where alternative browsers can work?
And what about Mac users?
3. Windows Media Player: Having to upgrade to a newer version of Windows Media Player is another pain. Like IE7 this is clunky piece of software. Surely you should be able to use other media players?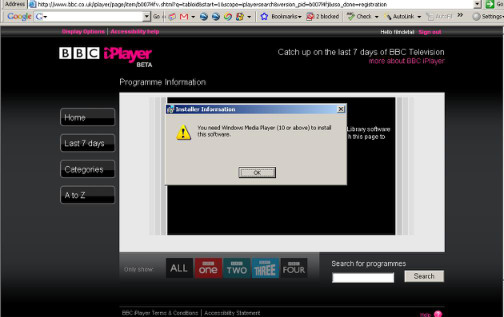 Does everything really have to be tied to these two pieces of software?
4. The Interface: It is fairly easy and intuitive to navigate but the search should be bigger and more prominent. I don't want to trawl through categories or dates – just beef up the search.
I know the service is still in Beta but it should be more focused on what the user wants to get rather than having the highlights plastered on the main page. It makes sense to push popular shows, but it was hard to find the more interesting stuff when you searched for it.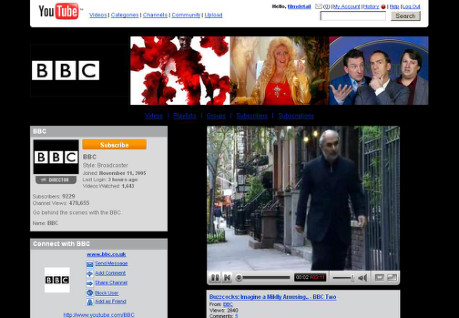 The BBC YouTube channel (see above) is actually much easier to use if you compare the two interfaces. I guess it is early days, but is there any chance they could integrate the two?
Perhaps, other Web 2.0 sites like Flickr and Facebook could also be compatible to make it a truly cross platform multi-media service. In fact given Facebook's explosive rise in popularity at the Beeb (and in the rest of the UK) why not have an iPlayer app built for Facebookers?
There would be some serious hoops to jump through here but it would be a way to seed the BBC content outside the walls of the iPlayer. Plus, it would chime in with director general Mark Thompson's ideas about user generated content.
5. The Download Times: I know these will improve the more users the iPlayer has (as its built on P2P technology) but it was frustrating when I downloaded an episode of Newsnight.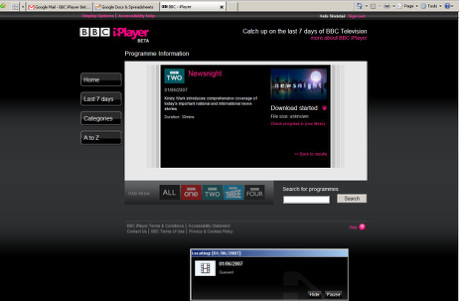 It took too long and with broadband speeds being what they now are, it was frustrating compared to other types of big files I've downloaded in the past. Plus, the image quality wasn't that great.
I know it is probably a trade off as the better the image, the longer the download time, but if you are used to watching DVDs on your computer then you are going to be a little disappointed.
6. Podcasts: The BBC Podcast trial has been fantastic with lots of great shows being made available. I find it hard to fault, but at the moment I get them all through iTunes.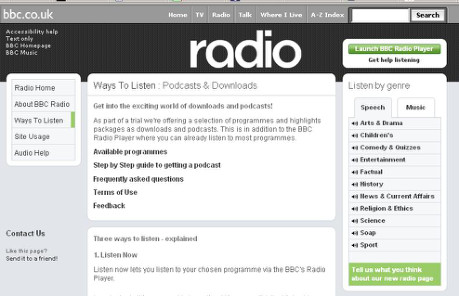 Couldn't the iPlayer also integrate these alongside the TV content in the way iTunes works? It would be a great way of storing all my BBC content in one BBC account.
7. Integrating the iPlayer: Speaking of which, couldn't the iPlayer be integrated into an online account (like Google Accounts) where the user (or licence payer) does all his BBC stuff online?
In an ideal world I want to be able to watch and listen to BBC content, pay my licence fee, check listings and read BBC websites whilst logged on as a BBC user.
Basically I want my BBC life under one online umbrella (or as former director general Greg Dyke would put it – "One BBC"). Or is this a idea a bit too retro?
8. Other Thoughts: I've been eagerly awaiting the iPlayer but I was overall I was disappointed by the Beta test. In the time its taken to get through all the regulatory hurdles and actually develop it as a piece of software, YouTube and other online video sites have matured really quickly.
I appreciate the BBC has restrictions and must fulfil certain obligations, but it should be better than this. Despite that, it could still be fantastic value for the BBC user if it becomes a service that reaches out beyond just downloading programmes.
If the rights issues are sorted, new features added and it becomes easier to use, then the iPlayer could be crucial to the very future of the BBC.
> Official site for the BBC iPlayer
> Media Guardian article on the iPlayer's troubled history
> Another review of the iPlayer trial from Diamond Geezer
> Official Message Board for the iPlayer (you have to register)
> Wikipedia entry for the BBC iPlayer