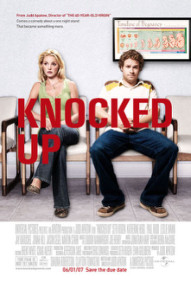 After reading early raves over the last couple of months I finally got around to seeing Knocked Up last night.
For those of you unfamiliar, it is the new comedy from writer-director Judd Apatow who made the The 40 Year Old Virgin back in 2005.
This film shares some of the same actors (Seth Rogan, Paul Rudd) and themes of the earlier film (e.g. relationships, people struggling to grow up) but, most importantly, contains a similar laugh count.
It might not be the out and out comedic masterpiece some are hailing it as, but it is easily the best mainstream comedy of the past year.
The premise is quite simple: a lazy slacker (Rogan) gets an attractive TV reporter (Katherine Heigl) pregnant after a one night stand and they have to deal with each other after both decide to have the baby.
What's impressive is that Apatow not only creates likeable main characters but also manages to avoid the pitfalls mainstream comedies fall in to. Although the R-rating and a couple of scenes near the end might see it get tagged as a "gross out" comedy, it is much smarter than that.
A lot of the humour comes from the stark differences between the two leads, some sly pop culture references (a gag about Total Recall went down particularly well at the screening last night) and the refreshingly irreverent approach to relationships and marriage.
The film has been playing really well at test screenings in the States and last weekend it took a significant bite out of Pirates 3's haul. Judging from that early box office, the rave reviews and the belly laughs last night I think this is going to be the big sleeper hit this summer.
Knocked Up is out now in the US and opens in the UK on August 24th
> Official site
> Check out the reviews for Knocked Up at Metacritic
> IMDb entry for Knocked Up
> Find out more about Judd Apatow at Wikipedia