Shane Meadows again proves that he is one of the most exciting directors working in British cinema with this tale of a skinhead gang in the early 1980s.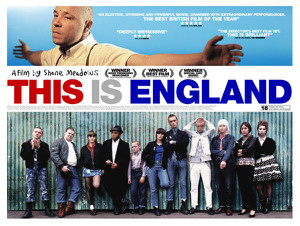 When a young boy named Shaun (Thomas Turgoose) is picked on at school he joins a skinhead gang where he finds friendship and a new sense of identity. As the gang is gradually taken over by more racist members, he starts to learn harsh lessons about his new friends.
Set amidst the backdrop of the Falklands War in the early 1980s, it manages to make some powerful parallels to the present day whilst brilliantly recreating the period itself with a varied, affecting soundtrack and a telling eye for detail.
It also features some truly remarkable performances. In the lead role of Shaun, young Thomas Turgoose gives an impressively mature turn that never slips in to sentimentality. As Combo, Stephen Graham is scarily convincing, giving a brilliantly intense performance as the racist leader of the gang.
A lot of British films get stuck in the dim drawing rooms of Merchant-Ivory or the phoney gangster chic of Guy Ritchie, so it is a joy to see a British filmmaker retain his own voice like this. A deeply moving rites-of-passage story, it also reconfirms Meadows as one of the most accomplished and distinctive directors currently working.
> Visit the official site
> IMDb entry for This is England
> Excellent Shane Meadows fansite with a lot of detail on This is England
> Mark Kermode interviews Shane Meadows for The Culture Show on BBC2
> Buy the wonderful soundtrack at Amazon UK
> Jon Savage with an interesting Sight and Sound article on the film