A polished and moving adaptation of Somerset Maugham's 1925 novel features two excellent lead performances from Naomi Watts and Edward Norton.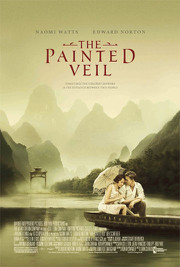 Dr Walter Fane (Edward Norton) is an expert in infectious diseases who is posted to China. When his mismatched, funloving wife Kitty (Naomi Watts) has an affair it drives them apart. But as they struggle to adapt to their rural location amidst a cholera outbreak, they begin to see each other in a new light.
Often literary adaptations can be restrained and stodgy affairs, but director John Curran has crafted a sensitive and moving film. Watts and Norton dovetail each other nicely and bring a powerful sense of passion lurking beneath their cool social exteriors. Watch out too for the excellent Toby Jones in a supporting role as a fellow ex-pat worker in the Chinese village.
The rural locations (it was shot around Guilin) are frequently used to beautiful effect, often proving an effective counterpoint to the disease and emotional suffering of the principal characters. Special mention should also go to Alexandre Desplat who contributes a lush score that mixes Eastern and western melodies.
> Check out our interview with John Curran & Edward Norton
> Visit the official site
> IMDb entry for The Painted Veil
> Reviews for The Painted Veil at Metacritic
> SoundtrackNet review the score by Alexandre Desplat
> Check out the showtimes for The Painted Veil at your local cinema