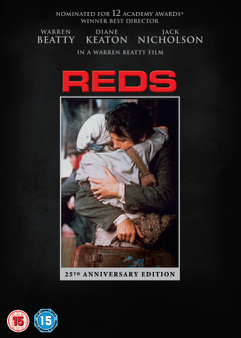 In the late 70's Warren Beatty somehow persuaded a major American studio (Paramount) to fund a huge sweeping epic about communist journalist John Reed. He was the man famous for chronicling the Russian revolution with his classic memoir 'Ten Days That Shook the World' and the film explores his work and his relationships with other writers of the time, such as Louise Bryant, Eugene O'Neill, Emma Goldman and Max Eastman.
Beatty assembled a terrific cast featuring the likes of Diane Keaton, Jack Nicholson, Edward Hermann, Maureen Stapleton and Gene Hackman but also recruited some heavyweight talents behind the camera. Most notably, Italian cinematographer Vittorio Storaro (whose other films include Apocalypse Now and The Conformist) brings some beautiful visuals to the screen.
The first half of the film deals with Reed (Beatty) and his relationships with fellow writers on the American left, in particular Bryant (Diane Keaton) with whom he has a tempestuous love affair. The second half sees the couple go to Russia and Reed grow ever more disillusioned with the Revolution, finally come to see the cost of his political beliefs to his personal life.
At a running time of over three hours (the film clocks in at around 194 minutes) Reds does demand a fair chunk of your time and attention. But that time is worth your while – it is a rich portrayal of characters in the turbulent years of the early 20th century but it also deals with history and politics with a scope and ambition that you don't see in contemporary Hollywood.
The extras for this special 2 disc edition mostly consist of a lengthy in an in depth documentary detailing the making of the film. Warren Beatty admits from the beginning that he doesn't like talking about his work in this way (!) but then goes on to be a lucid and entertaining narrator of how the project got off the ground and became his most ambitious film as a director.
Other notables involved such as Storaro and Nicholson also make worthwhile contributions (although Keaton's absence sticks out) and shed light on the struggles involved to bring it to the big screen. Also look out for production designer Simon Holland who details the extraordinary amount of locations used for the original shoot which included the US, Helsinki, Spain, Manchester, London and even the beaches at Rye.
Reds is out now on DVD from Paramount Home Entertainment
> Buy the DVD from Amazon UK (Region 2)
> If you are based in the US buy it here on Region 1 DVD
> IMDb entry for Reds
> Find out more about John Reed at Wikipedia