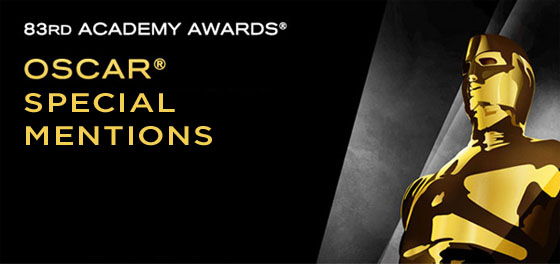 As the awards season comes to a close, let's forget about the campaigning and debate about what would or should win and reserve a special mention for some of tonight's nominees.
In what has been a strong year these are various people I think deserve special mention, regardless of whether they win tonight.
SPECIAL MENTIONS
Javier Bardem in Biutiful: The most powerful performance of the year was Bardem's searing portrait of a decent man on the edges of modern Barcelona.
Although the film's relentless focus on death turned off dweeby critics, Bardem's acting will be remembered for years to come.
Christopher Nolan for Writing and Directing Inception: The enormous commercial success of Nolan's career has strangely obscured his very real creative accomplishments. Fashionable contrarians and elederly members of the Academy were turned off by the gorgeous labyrinth that was Inception, mainly because it was 'too loud' or 'too clever for its own good'.
The fact that Nolan (as director) and his veteran editor Lee Smith were snubbed still hints that some Academy members don't get his films. But for a generation of filmmakers it will be discussed, analysed and appreciated for years to come.
Angus Wall and Kirk Baxter for editing The Social Network: One of the crucial aspects of Fincher's drama that makes it work is the phenomenal edit job by Angus Wall and Kirk Baxter.
It might take a couple of viewings to fully appreciate, but the criss-crossing timelines and overall construction of sequences is masterful. Some Academy voters might not have got the film on first viewing but repeated viewings highlight the dazzling, but often understated, work that went into it.
Roger Deakins' cinematography for True Grit: Although already something of a legend for his amazing body of work, Deakins managed capture the haunting beauty of the west in True Grit whilst providing some indelible images.
Many people think it is his time to be awarded an Oscar and who would begrudge him a statuette this year?
The Visual Effects in Inception: The team at British SFX house Double Negative who worked on Nolan's film (Paul Franklin, Chris Corbould, Andrew Lockley, and Peter Bebb) deserve a lot of credit for helping build convincing dreamscapes through live action and CGI.
The inventive blend of real locations, stuntwork and CGI were stunning and in the hotel fight sequence, limbo city and the overturning of Paris have set a new standard for effects work at this level.
The score for The Social Network by Trent Reznor and Atticus Ross: One of the most startling and arresting scores in recent memory was this wonderfully discordant electronic score. The way in which the dialogue driven opening scene gives way to the unsettling title sequence is one of the most memorable film transitions of the year.
Just a few minutes later the urgency of the Face Smash sequence is powered by an unforgettable frenzy of beats and noise. In some ways the score to the film is what gives the film it's unique flavour, with no cliched strings or cliched tracks from the time, it gives the story a distinct and original feel.
The Sounds of Inception: People always get confused between sound mixing and sound editing. To simplify, editing involves how the parts are assembled, whilst mixing is about the whole soundscape is put together.
It is a crucial and often undervalued aspect of movies and in the case of Inception, Richard King did an incredible job of recreating the sounds of all the different dream levels, which involve trains, guns, explosions, punches, car chases. The construction of the audio landscape in Inception was one of the great unsung reasons as to why it worked so well.
Charles Ferguson's Inside Job: The documentary category this year is incredibly strong but Charles Ferguson's documentary about the financial crisis deserves special mention.
Brilliantly dissecting the way Wall Street has essentially captured a generation of politicians and held society hostage for their own ends, it is a chilling reminder of how the political orthordoxies of the last 30 years have wreaked havoc but largely gone unpunished.
> Full list of Oscar nominations for 2010-11
> Official Oscars site
> 83rd Academy Awards at Wikipedia
> Analysis at Awards Daily and In Contention