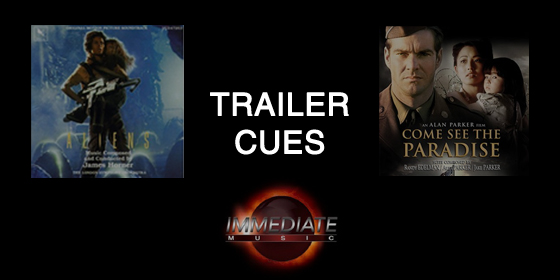 Various pieces of film music often end up in trailers for other movies but some appear more frequently than others.
When you watch a trailer for an upcoming film, the music featured is not necessarily what you hear in the final cut.
Often this is because the film and score haven't been finished, but there are some musical cues that keep re-appearing.
The movie music website Soundtrack.net have compiled a long list of frequently used cues from trailers and here are the top five:
1. Redrum from Immediate Music (Used 28 times): Immediate Music are a LA-based music company that specialise in music for trailers and for some reason their track 'Redrum' has really caught on. The pounding rhythm conveys a sense of emergency, the dynamic pause at 0.22 is useful for cutting to a dramatic shot and the choral singing creates an atmosphere of heightened tension.
It has been used 28 times in trailers for Dante's Peak (1997), The Day After Tomorrow (2004), The Last Castle (2001), The Mummy Returns (2001) and The Ring (2002).
2. Fire in a Brooklyn Theatre from Come See The Paradise (1990) by Randy Edelman (Used 27 times): Not many people remember Alan Parker's drama about the treatment of Japanese people in America following the attack on Pearl Harbor, but one track from Randy Edelman's score has been used in plenty of trailers as an action cue.
Again, urgency is the key here with the insistent rhythm and pounding keyboards creating the impression that what you are watching is dramatic and important. Ironically, this is musically out of step with the rest of film but studio marketing departments seem to love it, especially for weighty dramas with high stakes, which means it has appeared in trailers for The Chamber (1996), Clear and Present Danger (1994), A Few Good Men (1992), Rob Roy (1995) and Thirteen Days (2000).
3. Tightwire from Immediate Music (Used 26 times): The trailer music specialists are at it again with this fast, orchestral cue which screams urgency and a sense that something big is about to happen (i.e. a bomb about to go off), creating the illusion that you're seeing something important and dramatic.
This is probably the reason why it has been used in trailers for The Avengers (1998), Die Hard with a Vengeance (1995), Leprechaun 2 (1994), The Man in the Iron Mask (1998) and What Lies Beneath (2000).
4. Naked Prey by Immediate Music (Used 25 times): Another track from Immediate Music, this cue automatically signifies urgent action with its quick beats and pounding rhythm.
Film trailers it has been used in include: Along Came a Spider (2001), The Beach (2000), The Constant Gardener (2005), The Mummy (1999) and Waterworld (1995).
5. Bishop's Countdown from Aliens (1986) by James Horner (Used 24 times): James Horner's score to James Cameron's sequel to Alien (1979) was composed under extreme time constraints and pressure. But it features perhaps the most memorable trailer cue ever, taken from the climax to the film as Ripley fights the Alien queen.
The sounds of pounding metal, interweaving strings and perfectly judged brass all build to a monumental crescendo. It works so brilliantly that it appears in plenty of trailers including Alien 3 (1992), Broken Arrow (1996), Dante's Peak (1997), From Dusk Till Dawn (1996) and Minority Report (2002).
UPDATE 07/04/2011: After Roger Ebert tweeted about this post (thanks Roger!) there was a lot of traffic and some excellent suggestions in the comments below.
Some are more modern examples of music that has been re-purposed for use in trailers.
Michael Williams suggests Steve Jablonsky's theme My Name is Lincoln from Michael Bay's The Island (2005), which most people probably remember for its use in the trailer for Avatar (2009):
What's interesting about this one is that it is used for the first minute of the trailer and was probably chosen for the spacey, sci-fi vibe.
Another suggestion from Fax Paladin was the track "St Crispin's Day" from Patrick Doyle's score to Kenneth Branagh's Henry V (1989). Click forward to 2.37 to hear the specific cue, which is used when Henry give the Band of Brothers speech.
I'm not exactly sure what it has been used for, but it sounds familiar and the rousing strings around 4.22 certainly have that uplifting quality you often see in a good trailer.
Rug Daniels suggested Carter Burwell's theme to Miller's Crossing (1990), which not only appeared in the trailer for that film but also cropped up in the trailer for The Shawshank Redemption (1994).
Although the film wasn't a box office hit for The Coen Brothers, the moving strings and charming melodies make it perfect for creating a mood in a trailer.
Cat Vincent suggests Lux Aterna from Darren Aronofsky's Requiem For A Dream (2000), which was famously remixed for the trailer to The Two Towers (2002).
Aronofsky told me in 2008 that Mansell was initially unhappy about this use of his music, but it caught on and quickly became a staple of various trailers and ads including The Da Vinci Code (2006), Sunshine (2007), and even Sky Sports News (it was also the theme for Soccer Saturday from 2007-2009)
Kevin Bingham suggests a track from John Murphy's score to Danny Boyle's Sunshine (2007), which combines an absolutely epic mix of strings, electronic beats and piano.
For some reason this was re-used (or slightly remixed) by Murphy himself in Matthew Vaughn's Kick-Ass (2010) – in a fairly tense sequence – and also cropped up in the trailer for The Adjustment Bureau (2011). It also seems to appear regularly in various TV shows. By the way, click here for a monster remix of this track.
Chris Knight suggests the track "Archer Solomon Hike" from James Newton Howard's score to Blood Diamond (2006):
I can't quite put my finger on what trailers have used it but the moody strings certainly fit that quiet/reflective moments in a trailer.
Dave suggests Basil Pouledoris' main theme for Conan the Barbarian (1982). Listen to the opening part:
The rhythm and melody sound very familiar and create a vibe of impending doom in a foreign land. It also sounds like Jerry Goldsmith's main theme for Total Recall (1990), another film which starred Arnold Schwarzenegger.
Be sure to check out the full list of the most used trailer cues at Soundtrack.net if they aren't included above.
> Soundtrack.net Trailer Music
> More on trailers at Wikipedia