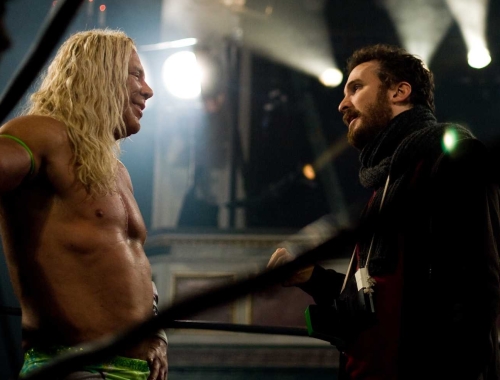 The Wrestler is a new film about an ageing wrestler – Randy 'The Ram' Robinson (Mickey Rourke) – past his prime, who struggles to make ends meet doing shows on the weekends in New Jersey.
The story follows him as he works in a deli, strikes up a relationship with a stripper named Cassidy (Marisa Tomei) and seeks a reconciliation with his estranged daughter (Evan Rachel Wood).
I spoke with the director Darren Aronofsky and Mickey Rourke back in October when the film played at the London Film Festival.
You can listen to the interview here:
[audio:http://filmdetail.receptionmedia.com/Darren_Aronofsky_and_Mickey_Rourke_on_The_Wrestler.mp3]
You can download this interview as a podcast via iTunes by clicking here
The Wrestler is out at UK cinemas on Friday 16th January
> Download this interview as an MP3 file
> Darren Aronofsky and Mickey Rourke at the IMDb
> Read reviews of The Wrestler at Metacritic
> Official UK site
[Image: Niko Tavernise / Optimum Releasing © 2008]