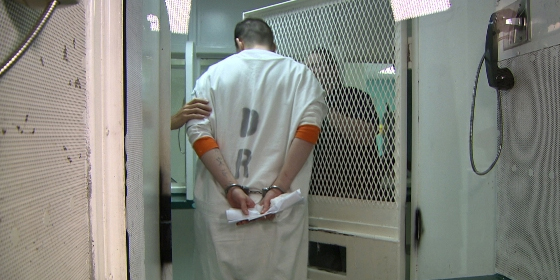 A powerful exploration of the death penalty sees Werner Herzog probe deep into the horrors of killings in Texas.
There is a moment in Herzog's latest film where he tells a young man that "I don't have to like you".
You soon realise why.
The man he's speaking to is Michael Perry, who is on death row after being convicted, along with an accomplice, of murdering three people in October 2001.
Viewers might be conditioned to think that a film about the death penalty made by someone who opposes it (as Herzog does) might be an issue film.
After all, Errol Morris famously got an innocent man off death row with his 1988 documentary The Thin Blue Line.
But we quickly realise this isn't an issue film about the death penalty and instead a long hard look at death itself, as seen through the ripple effects of a murder.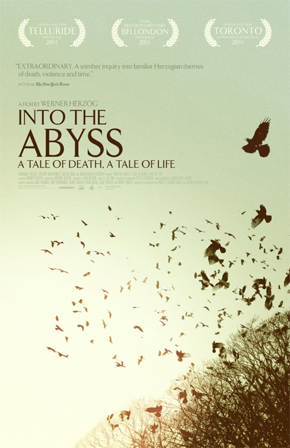 In a similar way to Truman Capote's In Cold Blood it provides an examination of evil in the heartland of America.
Perry was convicted, along with Jason Burkett, of brutally killing three people in Conroe, Texas: a 50 year old nurse, her teenage son and his friend.
Herzog's conversation with Perry is one of several: he also speaks to Burkett, the families of the prisoners and victims, as well as various people connected with the business of death, including a retired executioner and pastor.
Whilst it doesn't come to any firm conclusion as to Perry's guilt – he protests his innocence throughout – it seems likely he was guilty.
But the film is not an exploration of who did what and instead opts to probe around the question of why people kill and condone killing.
The shallow reason Perry and Burkett murdered was to steal a car for a joyride, whilst Texas as a state seems to have a pathological addiction to killing its prisoners.
Since the resumption the death penalty in 1976 (after four years when it was suspended) Texas has executed nearly four times as many inmates as its closest rival, Virginia.
But Herzog isn't singling out the Lone Star state – the disturbing details of the murder case are constantly in the air and some of the people not directly connected with the case have an impressive moral dignity.
There is the retired executioner who forgoes his pension because he is tired with legally killing people, whilst a pastor manages to give an unexpectedly profound answer to Herzog's curve ball question about a squirrel.
As usual the small quirks of human behaviour are picked up on although this is a much more sober film than Herzog's recent work and at time Mark Degli Antoni's sparse score gives it an appropriately sombre tone.
Herzog is a past master at eliciting revealing answers by asking deceptively straightforward questions.
One of the most startling dialogues here is with an articulate woman who became attracted to and pregnant by Burkett.
Quite how an inmate gets a woman pregnant from inside prison is an open question, but that is part of the rich tapestry Herzog weaves with this film, managing to touch upon the trend of death row groupies.
Always a director attracted to extremes, be it pulling a boat over a mountain in Fitzcarraldo or putting his cast under hypnosis for Heart of Glass, here the extremity of the subject matter is complemented by a notable visual restraint.
We never see him on screen and his regular DP Peter Zeitlinger opts for a restrained visual style, but this is purposely not a fly-on-the-wall film.
In fact it's quite the opposite, as Herzog's probing presence and restless curiosity can be felt in every frame as he engages with the people surrounding the killings and the issues such actions raise.
Just a few days after filming in July 2010, Perry himself was killed by lethal injection, which provides the film with a brutal final stop.
It doesn't come to any definitive conclusions, but therein lies its power – after the film is over the questions raised stay with us, precisely because they have no definitive answers.
The title of this film could describe many of Herzog's previous movies, as it perfectly describes deep themes and stark feeling of awe embedded in his best work.
It is hard not to come out profoundly shaken as the questions of how and why human beings destroy one another are presented with such piercing clarity that they linger in your mind long after the final credits.
Into the Abyss is out now in the US and opens in the UK on March 23rd
> Official site
> Reviews of the film at MUBi and Metacritic
> Interesting Guardian article on the case by Joanna Walters, who interviewed Perry just after Herzog