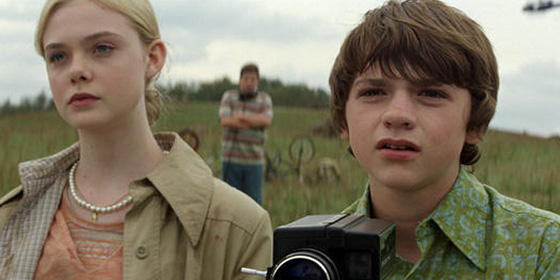 A loving homage to the early work of Steven Spielberg, Super 8 mixes genres to create an unusual but enjoyable summer movie experience.
Set in Ohio during 1979, it tells the story of a teenage boy named Joe (Joel Courtney) and his group of friends who accidentally discover strange things happening in their small town whilst making a movie using a Super 8 camera.
After witnessing a spectacular train crash, quickly covered up by the US army, Joe has to deal with his lawman father (Kyle Chandler), his filmmaking buddies led by Charles (Riley Griffiths), a classmate named Alice (Elle Fanning), and a series of increasingly mysterious events.
In a summer filled with remakes and sequels, this singular project sees director J.J Abrams blend his love for the original series of The Twilight Zone with the Spielberg films that enchanted him as a young man.
For a major studio like Paramount, this is an unlikely summer tent-pole release as it isn't based on a pre-existing property (or is it?) and there are no star names attached.
With a relatively cheap production budget of about $50 million, it is being sold on the central concept of 'what if Steven Spielberg made Cloverfield in 1979?'
The end result is an entertaining love letter to the era in which Abrams grew up but also to the movies and TV shows which inspired him to become a storyteller.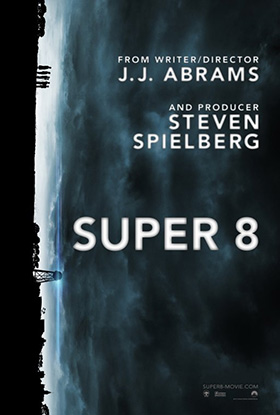 Whilst the bedrock is a coming-of-age tale, it also mixes sci-fi and family drama with the kind of mystery and wonder that Abrams and Spielberg have both specialised in during their careers in film and television.
Spielberg is a producer on the film and reportedly had significant creative input into the script and final movie (it is even co-produced under his iconic Amblin' banner), which is kind of like Paul McCartney teaming up with a Beatles tribute band.
Indeed, Super 8 is so intentionally marinated in Spielberg tropes that it is almost difficult to categorise.
Is it a homage? A cinematic mashup? Perhaps one analogy would be to say that it is a filmic remix of Spielberg's greatest hits by Abrams.
It certainly draws deeply from Spielberg's early blockbusters but also on other films he wrote and produced in that period when he established himself as Hollywood's boy wonder.
Like Jaws (1975), it deals with a sinister threat to a small town; like Close Encounters of the Third Kind (1977), ordinary people are caught up in extraordinary events; like E.T. the Extra-Terrestrial (1982), innocent children are contrasted against guilty adults; like Poltergeist (1982), a family struggles against dark, underground forces and like The Goonies (1985), a band of friends bond on an adventure.
(Spielberg fans will have fun spotting many other little details and references to his work)
Some people might level the accusation that Abrams and Spielberg have combined to just rip off and revisit the latter's movies, but it is to their credit that they have actually crafted something new, whilst remaining respectful to those original works.
Perhaps the neatest trick of Super 8 is that it remembers that despite their spectacle, Spielberg's early films had a rich vein of emotion that flowed from memorable characters.
Opening with an scene of eloquent sadness, the film is grounded in real life and even if some fantastical things later happen, it is all about how these events affect the characters and their relationships.
A good deal of this comes from the two young actors who anchor this film brilliantly.
Newcomer Joel Courtney has just the right amount of innocence and spirit in what is essentially the lead role, whilst his chemistry with Elle Fanning is both believable and charming.
She too is really quite something, conveying complex emotions with an ease rare for actors her age. One sequence early on, as she rehearses a scene for the Super 8 film-within-the-film, has shades of Naomi Watts' audition in Mulholland Drive (2001).
The other actors round out the film nicely, with Riley Griffiths, Zach Mills, Gabriel Basso and Ryan Lee making up an engaging patchwork of friends and budding filmmakers.
In the token adult roles, Kyle Chandler as Joe's police officer father and Toby Emmerich as the military commander are OK without bringing the house down, but perhaps that's a by product of having so much focus on the kids.
It is also worth noting that for all his obsession with sci-fi spectacle Abrams (like early Spielberg) is deft at handling the little character touches, whether it be an extra talking on a payphone or revealing background visual details.
His recent reboot of Star Trek (2009) worked wonderfully because of this kind of attention to character and place and the same is true of Super 8.
The production design, cinematography and tone are all remarkably authentic to the vibe of the period and DP Larry Fong creates widescreen images that seem to curb his director's occasional instincts to frame the action like he's still working in television.
On the downside, Abrams penchant for lens flares becomes distracting – they are even on the poster! – even if the visuals overall work well. Some shots of awestruck kids and depictions of small-town suburbia nicely reference Allen Daviau's cinematography in E.T and Vilmos Zsigmond's work in Close Encounters of the Third Kind.
Ben Burtt's sound design is also very effective, especially during the action set-pieces, which simultaneously keeps things real whilst also giving certain scenes a requisite fantastical lift.
One major caveat is that the visual effects sometimes feel overdone for key scenes, but that could be a case of the production needing to spend its allocated budget.
This is especially true as the film enters its final act and the compulsion to introduce big set-pieces threatens to drown out the carefully constructed tone of the film.
But even here Abrams deploys his secret weapon in composer Michael Giacchino, who is fast becoming one of the best of his generation after establishing himself with TV shows such as Lost and winning awards for his work on Pixar movies like Up.
As you might expect his work here deliberately channels Spielberg's regular composer John Williams, but he also manages to weave in his own blend of melodies, which give the final sequences a special emotional kick.
It is difficult to discuss much of the plot without giving away spoilers, but despite some problems with the latter stages, it was very hard not to exit the film smiling.
Some might feel this whole project is simply an exercise in nostalgia, but it manages to be more than just a retread of Spielberg's work by tapping in to the essence of what made them successful.
By mining the magic of a previous era, Super 8 reminds us that the simple pleasures of summer movies, like character and emotion, are often the most rewarding.
Super 8 is out now in the US and opens in the UK on Friday 5th August

> Official site
> Find out more about J.J. Abrams and Steven Spielberg at Wikipedia
> Reviews of Super 8 at Metacritic