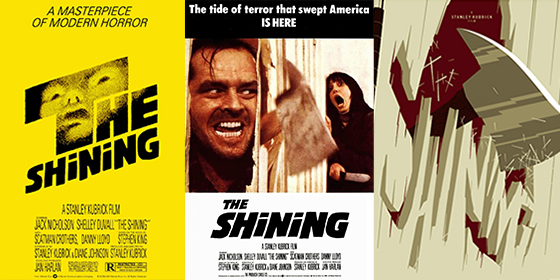 These different trailers for Stanley Kubrick's The Shining (1980) give an interesting glimpse of how different eras perceive a film.
After the commercial disappointment of Barry Lyndon (1975), Kubrick wanted to do something with a bit more box office potential.
An adaptation of a Stephen King novel with a big star (Jack Nicholson) seemed to be a way of combining his interests as a director with the opportunity for a hit movie.
As it turned out the end result was met with a lukewarm critical reaction and modest box office before gradually establishing itself as a classic over time.
We can see part of this journey in how The Shining has been depicted in various trailers down the years.
Before the original US release in May 1980 there was this creepy teaser, which used the now famous image of blood coming out of an elevator.
The mood and mysterious tone kept users guessing, whilst cleverly using one of the signature shots.
On its release in the UK a few months later, Warner Bros were probably disappointed at the patchy reception in the US.
This recently unearthed UK TV spot reveals a lot more, but the inclusion of a still featuring Jack Nicholson's grin (different from those used in other marketing materials) makes me wonder if the publicity department was having an off day when they approved this.
Kubrick then made a number of cuts to the film (around 25 minutes worth) before it opened in London and it seems initial audiences were baffled or even bored by what they saw.
The director was even nominated for a Golden Rasperry Award for Worst Director (!), which seems ridiculous now but perhaps speaks to its gradual appeal.
Part of that was down to screenings of the film on television and video during the 1980s, as it gathered a new audience who could appreciate its unusual style and considered approach.
This trailer for the ABC TV premiere in 1983 calls the film a 'ultimate exercise in terror' and cuts together some of the famous images in the film, including one scene involving skeletons dressed up at a party that was excised from the UK cut.
By now the film had ended its theatrical run, but a new audience was beginning to experience it just as the home video boom was taking off.
But why did it succeed with home audiences just three years after cinemagoers had partly rejected it?
Part of it may be down to Kubrick's style, which doesn't always make concessions to first time viewers and that The Shining has a special quality when you see it at home.
After all, it explores the quiet terror of being alone in a building and the ghosts of the people that may (or may not) have lived there before.
Perhaps the solitary nature of viewing it in the home suited the film better than the communal environment of the cinema.
Another technical detail worth pointing out is that it was effectively shot in the aspect ratio of 1.37, which means that although it was conceived and framed for a 1:85 theatrical release, the film was visually well suited to the squarer screens of TV and didn't have to be pan and scanned.
After Kubrick's death in 1999, British critic Jonathan Romney wrote an appreciation of The Shining for Sight and Sound, which was an excellent response to the initial criticisms:
"At first sight this is an extremely simple, even static film. [..] Kubrick had put so much effort into his film, building vast sets at Elstree, mak­ing a 17-week shoot stretch to 46, and what was the result? A silly scare story – something that, it was remarked at the time, Roger Corman could have turned around in a fortnight. But look beyond the simplicity and the Overlook reveals itself as a palace of paradox…. Even if the drama appears straightforward, there's the matter of the unearthly stage it's enacted on – the hotel itself, with its extraordinary atmospherics. Hotel manager Ullman (Barry Nelson) welcomes Jack by telling him how a former caretaker, Charles Grady, went crazy and chopped up his family: the problem was cabin fever, the result of confinement in isola­tion. Not only do the Torrances suffer cabin fever but Kubrick wants us to as well. The Shining makes us inhabit every comer of the painstakingly con­structed hotel sets, and the way the film guides us along corridors, around corners, up staircases – thanks to Garrett Brown's revolutionary new gizmo the Steadicam – makes us feel we know every inch of the place, even (especially) the sound of its silences."
It is true that there is an unsettling power to the film which takes the viewer right inside the mysteries of a particular place, rather than focus on the struggle between an innocent protagonist and an evil monster.
After his death people began to focus less on Kubrick's reputation as a 'reclusive genius' and focus more on the glory of his work, which continues to inspire a generation of filmmakers fascinated by his attention to detail and impeccable craft.
With the proliferation of cheap digital editing tools and the web, frequent homages to Kubrick appear online, but perhaps the most memorable was this 2005 reworking of the film's trailer as a romantic comedy:
The New York Times later reported on how it came about:
Robert Ryang, 25, a film editor's assistant in Manhattan, graduated from Columbia three years ago with a double major in film studies and psychology. This week, he got an eye-opening lesson in both. Since 2002, Mr. Ryang has worked for one of the owners of P.S. 260, a commercial postproduction house, cutting commercials for the likes of Citizens Bank, Cingular and the TriBeCa Film Festival. A few weeks back, he said, he entered a contest for editors' assistants sponsored by the New York chapter of the Association of Independent Creative Editors. The challenge? Take any movie and cut a new trailer for it – but in an entirely different genre. Only the sound and dialogue could be modified, not the visuals, he said. Mr. Ryang won the contest, and about 10 days ago, he said, he sent three friends a link to a "secret site" on his company's Web site where they could watch his entry. One of them, Mr. Ryang said, posted it on his little-watched blog. And that was that. Until this week, when he was hit by a tsunami of Internet interest. On Wednesday, Mr. Ryang said, his secret site got 12,000 hits. By Thursday the numbers were even higher, his film was being downloaded and linked to on countless other sites, it had cracked the top 10 most popular spoofs on www.ifilm.com, and a vice president at a major Hollywood studio had called up his office, scouting for new talent.
The video has since been seen over 3 million times on YouTube.
By 2008 Kubrick's status as a legend was complete and when UK channel More 4 screened a season of his films that summer, this trail was a wonderful homage to the making of The Shining:
Over the course of nearly thirty years, the reputation of Kubrick's horror has grown. But what kind of trailer would Warner Bros cut for the film today?
Another edit on YouTube (by a user named Chigawa) gives us some idea:
The fact that The Shining still resonates, after the chilly reception in 1980, through numerous showings on TV and home video, is a testament its enduring power.
> The Shining on Blu-ray and DVD at Amazon UK
> IMDb entry for The Shining
> Stanley Kubrick at Wikipedia and MUBi
> List of edits to The Shining made for its UK release