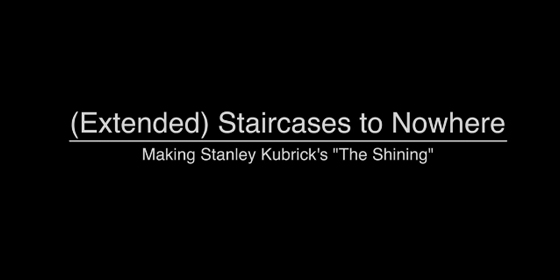 The full version of The Elstree Project's documentary about The Shining is now available online.
Stanley Kubrick's famous horror was originally documented in a 17 minute short film, as part of the project designed to document the famous studios of Elstree and Borehamwood.
But now they have released a much longer version lasting 55 minutes with contributions from:
Brian Cook – 1st AD

Jan Harlan – Producer

Christiane Kubrick – Wife of Stanley Kubrick

Mick Mason – Camera Technician

Ray Merrin – Post-Production Sound

Doug Milsome – 1st AC and Second Unit Camera

Kelvin Pike – Camera Operator

Ron Punter – Scenic Artist

June Randall – Continuity

Julian Senior – Warner Bros. Publicity
They discuss many aspects of the film including the 2nd Unit footage shot in America, the different stages at Elstree, the use of Steadicam, the fire on set, and what Kubrick was like to work with.
> The Elstree Project
> Buy The Stanley Kubrick Boxset from Amazon UK
> Previous Stanley Kubrick Posts