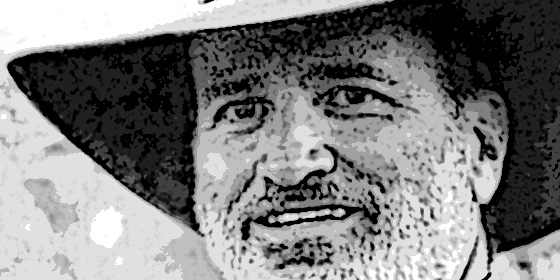 The elusive Terrence Malick was actually seen last week at the Cannes film festival.
The famously reclusive director may have been absent from the official press conference, the red carpet and even the official ceremony where his film won the Palme d'Or.
But he did actually make a brief appearence inside the Grand Theatre Lumiere after the premiere of his latest film.
USA Today report:
After the film ended and the premiere audience engaged in a hearty ovation for his latest magnum opus, a moving odyssey through time and memory, the iconoclastic Malick slipped in quietly, having avoided the red carpet and somehow arranging for TV cameras to point away. In the midst of the extended ovation in side the Palais' Grand Theatre Lumiere, Malick surreptitously entered and was suddenly in the actors' midst.
They quote actress Jessica Chastain as saying:
"Brad [Pitt] and I are standing there and everyone's applauding, I looked over and in walked Terry. I don't think people realized it. The festival of course knew, but it was a last minute thing. And the camera kind of turned to the ground even though the premiere was being televised. There was nothing for like a minute on the screen and that's because Terry came in. He stood there and everyone was clapping. The festival director was going 'Yes!' and throwing his arms up and trying to get everyone to recognize who Terry is. I came over and hugged Terry and Brad hugged Terry and Terry hugged his wife and it was a beautiful moment. It lasted like a minute and then he was gone."
This photo on Flickr would appear to confirm that Malick did indeed sneak in to the cinema to celebrate the moment with his actors:
If we zoom in a little bit we can see the director and his actors a little more clearly: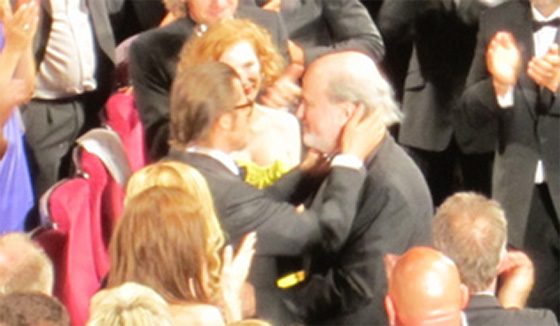 Click here for the full larger version.
[Hat tip to @Awardsdaily, @LePuu and colonelchi]
> Cannes reactions to The Tree of Life
> More on Terrence Malick at Wikipedia