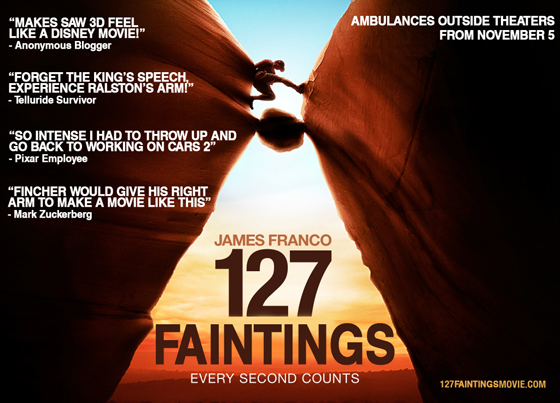 The intense nature of 127 Hours has led to a slew of reports that audience members have fainted at screenings – but is it just part of a brilliant marketing plan?
During the awards season, a lot of time and money is spent positioning films for contention and Fox Searchlight are past masters at the game.
Since their birth in 1994 they have excelled in securing key wins or multiple nominations for films such as The Full Monty (1997), Boys Don't Cry (1999), Sideways (2004), Little Miss Sunshine (2006), The Last King of Scotland (2006), Juno (2007), Slumdog Millionaire (2008) and Crazy Heart (2009).
Danny Boyle's last film was a notable triumph, given that it was in limbo and heading for a straight-to-DVD release before Fox Searchlight picked it up.
The fact that they spotted its potential and managed to turn it into their first Best Picture win made it an especially stunning triumph.
Similarly, they spotted the potential of Crazy Heart last year and mounted a highly effective campaign that propelled Jeff Bridges to his first Best Actor Oscar.
With 127 Hours, they have Danny Boyle's follow up to Slumdog Millionaire and a tricky proposition: this is a film that centres around a single character stuck in a remote canyon in Utah, before he conducts some unconventional surgery with a penknife.
Given that the story of Aron Ralston (played by James Franco) is fairly widely known, the studio also face the challenge that many audience members will know the resolution of the film involves a fairly gruesome act.
When it first screened on the festival circuit at Telluride in early September, Anne Thompson of Indiewire reported that medics were called to attend to audience members at separate screenings.
A week later in Toronto, The Wrap reported that there were:
"three faintings and one seizure"
By mid-October Deadline were reporting that two more people had passed out at a screening at Pixar hosted by Toy Story 3 director Lee Unkrich.
The pattern continued at various screenings in Mill Hill Valley, New York, London and Los Angeles to the point where Movieline started a running tally, entitled 'A Comprehensive Timeline of Everyone Who's Fainted (Or Worse) at 127 Hours'.
At the LFF press screening I could feel some of the audience tense up during the climactic sequence – a few near me looked away – so I don't dispute that it is a tough sequence to sit through (although curiously transcendent in the context of the film).
After hearing the initial reports of faintings at Telluride, it seemed that the marketing folk at Fox Searchlight would have a job on their hands trying to convince people that 127 Hours wasn't a new horror franchise from Lionsgate.
But now, with the film in platform release and selected audience members dropping like flies, it seems like a brilliant marketing plan.
Danny Boyle's latest is not the traditional comfort food for the elders members of the academy but a much more contemporary tale of survival.
Is it being positioned for the younger and members of the academy?
Over the last 25 years the Best Picture winners were nearly always period films (the exceptions being Rain Man, The Silence of the Lambs and American Beauty), but the trend over the last few years has been towards darker and more contemporary material.
Think about the winners since 2004:
Million Dollar Baby (2004): Contemporary drama involving euthanasia.
Crash (2005): Contemporary drama about racism in LA.
The Departed (2006): Contemporary crime drama filled with violence.
No Country For Old Men (2007): Not exactly contemporary (it is set in 1980) but is surely one of the darkest films ever to win Best Picture.
Slumdog Millionaire (2008): Mostly set in the present, it includes scenes of poverty, child torture and the central character enduring all manner of physical and mental hardships.
The Hurt Locker (2010): Released before the Iraq War had ended, this featured U.S troops dying in combat and getting hooked on the drug of war.
Whilst some of the above films certainly have their uplifting moments, none of them are exactly Driving Miss Daisy.
What does this say about the Academy voters?
Could there have been a gradual generational shift towards darker films that reflect contemporary anxieties, like there was in the late 60s and early 70s when Midnight Cowboy, The French Connection and The Godfather triumphed?
Which brings us back to 127 Hours.
Are Fox Searchlight positioning this film for a younger generation of voters who embraced the darker leaning films of the last few years?
It is almost as if they are converting their initial fear about the film and turned it into a key selling point.
Want a costume drama about a posh guy stuttering? Vote for The King's Speech.
Want a drama about geeks feuding over a website? Vote for The Social Network.
Want a confusing action film about dreaming? Vote for Inception. (I should interject that I'm a big fan of all of the above films)
But a story about the basic struggle to stay alive against impossible odds?
Well, there is this film about a guy stuck in a canyon that is so extreme, people are fainting at screenings!
After an ambulance was spotted outside a cinema showing the film in Georgia, noted Oscar watcher Scott Feinberg posted the theory that Fox Searchlight may have embraced the 'fainting narrative'.
If it is indeed the case, this marketing strategy is almost daring the audiences to experience the film and feel better about themselves for having endured it.
It also builds up a must-see factor, which increases the buzz at a time when 127 Hours increasingly seems like Fox Searchlight's best shot at the Oscars.
Two of their potential contenders coming in to the awards season – Never Let Me Go and Conviction – have effectively fallen out of the race, whilst Black Swan is something of a dazzling wildcard who's dark tone and wild sensibility are likely to divide Oscar voters.
Not only does the fainting meme spread the word about Danny Boyle's film, but it actually nudges people into wanting to see it and to prove themselves as modern, hardened cinema goers.
But will it work with Academy voters? We'll have to wait and see.
> Movieline timeline of faintings at 127 Hours
> Reviews of 127 Hours at Metacritic and MUBi
> My take on 127 Hours at the LFF