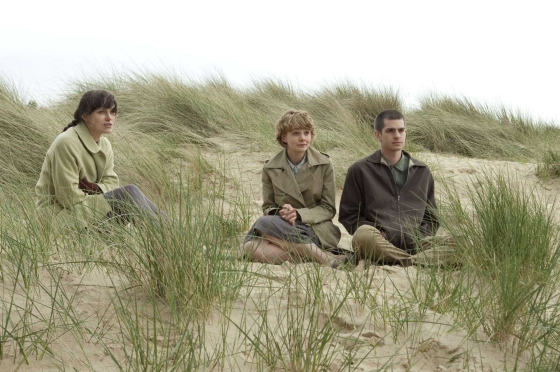 The film adaptation of Kazuo Ishiguro's novel is an exquisitely crafted but emotionally distant meditation on mortality.
Set in an alternate timeline of England where science has cured many illnesses, a young woman named Kathy (Carey Mulligan) looks back on her childhood when she grew up with two friends, Ruth (Keira Knightley) and Tommy (Andrew Garfield).
As youngsters they attend Hailsham, a boarding school sheltering them from the outside world, and as they grow older it slowly dawns on them that they have been excluded from mainstream society for a reason.
From the opening credits director Mark Romanek establishes a carefully controlled mood, and for the early section we see younger actors (Isobel Meikle-Small, Ella Purnell and Charlie Rowe) convincingly play the three leads as children in 1978.
Hints are dropped fairly early on about the mysterious nature of their youth, alongside a developing love triangle as Kathy realises Tommy, who she bonded with from an early age, is in love with Ruth.
The recreation of an ageing English boarding school is thoroughly convincing, with some first rate costume and production design, and the transition to their teenage years in the mid-1980s is fairly seamless.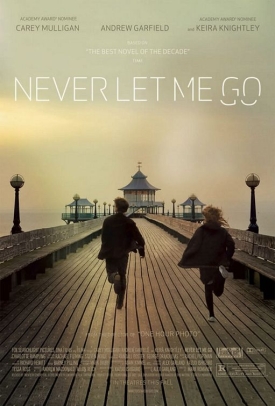 Romanek handles the material with considerable skill and technically the film is exquisitely made: Adam Kimmel's widescreen cinematography and Barney Pilling's editing all help to create a rich mood of sadness and regret.
As an American, Romanek was an interesting choice to direct the material and he gives it a crisp sense of movement, far removed from the ponderous nature of many British productions which can drearily linger on their period settings.
The alternative version of England is depicted with unusual precision.
Look carefully at the school, the countryside, the towns and vehicles and you will notice a piercing eye for detail, which enhances the realism despite the sci-fi backdrop.
There are also some memorable images: the creepy beauty of Hailsham, the wintry isolation of an empty beach and the clinical interiors of a hospital are just some of the startling visual backdrops.
Added to this is a standout central performance from Carey Mulligan. Her work here is on par with her lauded turn in 'An Education', demonstrating a rich vein of emotion along with a captivating screen presence.
As the film moves in to the 1990s, she depicts a maturity beyond her years, perfectly suited to the material, and also delivers a potentially tricky voiceover with just the right nuance and feeling.
But there is a paradox at the heart of Never Let Me Go, which is that for all its impeccable craft, there is an emotional distance to the audience.
Alex Garland's screenplay, which otherwise does a fine job at extracting and shaping the ideas of the book, shows its hand early on, so there is a sense of inevitability to the story.
Whilst this emphasises the notion of fate, it also means the revelations are blunted and end up lacking an intellectual and emotional force.
This is typified in Rachel Portman's lush orchestral score which despite containing beautiful flourishes, is deployed too heavily throughout, and ends up blending into a collective sound of despair.
Added to this, there is no escaping that the material is an emotional downer: a reminder of the transience of existence, it goes against the feel-good optimism of many mainstream releases.
This is actually to its credit, as precious few films even attempt this, but it may be a reason audiences either don't respond or simply stay away.
Going in to the awards season this was being touted as a major contender and, after dividng critics at Telluride and Toronto, has died an early box office death in the US with its platform release evaporating into thin air.
In the language of the film it has already 'completed' and this is disappointing, as films displaying this level of craft deserve a better fate.
I suspect some US audiences were instinctively repelled by the way in which the characters 'accept' their condition.
This is of course an underlying theme of the novel and film – that human beings resign themselves to social conditioning – but it clearly hasn't caught the mood, even amongst more discerning audiences.
Certainly a film about death, which focuses on the underlying cruelty of a society dedicated to the greater good, is a tricky sell in an era of recession and general gloom.
Time may be kinder to Never Let Me Go.
Despite certain shortcomings, it is a worthy adaptation which conveys the profound sadness of the novel and marks a welcome return for Romanek to the director's chair.
Never Let Me Go opened the London Film Festival tonight and opens in the UK on Friday 21st January 2011
> Official site
> Reviews of Never Let Me Go at Metacritic and MUBi
> Find out more about Mark Romanek and Kazuo Ishiguro at Wikipedia
> Never Let Me Go at the LFF