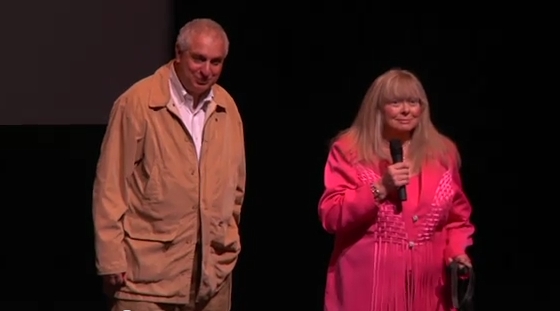 Tabloid recently screened at the New York Documentary Film Festival and its subject Joyce McKinney joined director Errol Morris on stage.
One of the best documentaries of the year, it tells the story of McKinney and the tabloid feeding frenzy she was involved in back in the 1970s.
When it screened at this year's London Film Festival the producer Mark Lipson hinted to the audience that Joyce was more than a little upset with how the film portrayed her.
It seemed there would be an ongoing rift until someone had the brilliant idea of reuniting Joyce and Morris on stage at the New York Documentary Festival last night.
The following video of their post-screening Q&A is priceless:
Notice how Joyce can't stop talking, the look of bemused delight on Morris' face and a hilarious climax provided by her dog.
There is also this video of McKinney after the screening:
I suspect that both with be included on the DVD extras.
As an aside, this website was one of many that received a comment threatening legal action against the London Film Festival, the filmmakers and anyone who didn't take a basic description of the film down from their site.
Was Joyce doing blog searches and trying to 'correct' the image presented of her in the film?
[via The DailyMUBI]
> New York Documentary Film Festival
> Follow DOC NY on Twitter
> Errol Morris
> My review of Tabloid at the London Film Festival
> Reviews of Tabloid via MUBi