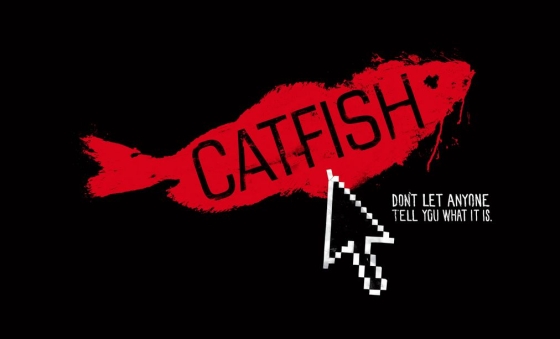 It was at a few days before the end of the London Film Festival when I had my first strange Catfish experience.
I was sitting in the delegate centre on the South Bank, the place where journalists and filmmakers go to hang out, drink coffee and wonder why the Wi-Fi still isn't working.
After seeing Black Swan that morning I wanted somewhere to write down my initial thoughts on what was one of the most anticipated films of the festival.
After an hour or so I bumped into someone I knew from a UK distributor, who was accompanied by two American filmmakers who were screening a film at the festival called Catfish.
They were Henry Joost, one of the directors, and Yaniv Schulman, the photographer on whose experiences the film is based.
But what exactly is Catfish?
I knew it was a documentary that had screened to great buzz and acclaim at the Sundance Film Festival back in January.
But I'd also heard several people say that you should know as little as possible before seeing it.
Henry confirmed that this was probably for the best. All I knew about the film was that it was a documentary (or was it?) which involved Facebook at some point.
Unlike other films at the London Film Festival, there hadn't been any official press screenings, so I'd bought a ticket for a screening the following Monday.
But I was now in the bizarre situation of chatting with the co-director of a film but not wanting to know too much about it.
So, whilst avoiding major plot spoilers, Henry told me how they had shot it on very cheap, consumer digital cameras and even took one out of his pocket to show me. It was indeed the kind of everyday camera you see tourists use in London all the time.
When I asked about how they got the film to Sundance, he explained that someone sent the film on DVD to Andrew Jarecki (the director of Capturing the Friedmans) and that helped things move along.
He spoke of his excitement when it first screened at the festival, after which it immediately became one of the most sought after titles, with the likes of Brett Ratner and J.J. Abrams entering into to a bidding war to acquire the film.
I spoke carefully because I knew there was a lot of chatter back in January about the nature of the film, but I refrained from asking details so as not to spoil my first viewing.
But we chatted about the technical aspects of submitting a film to Sundance, The Social Network (another film involving Facebook) and Black Swan, which apparently used the same post-production facilities as Catfish.
There is another strange connection with Darren Aronofsky's film, as the guys behind Catfish also made a film about the New York Ballet, albeit a very different one.
After this random 20 minute encounter, I bid them farewell and it was three days later that I finally saw Catfish at a packed 9pm screening at the Vue West End.
The London Film Festival is open to the public, which can sometimes give the screenings a different atmosphere and this one was put on due to extra demand after the first two over the weekend sold out quickly.
Right from the beginning the film sets up an intriguing situation: Yaniv Schulman is a young New York photographer who is sent a painting by a young girl, who says she lives in rural Michigan with her mother and her sister.
The film then becomes a document of how they gradually form an online relationship – via Facebook, text message and IM – all shot on handheld digital cameras in a vérité style by Nev's brother, Ariel and his co-director Henry Joost.
To reveal anymore about Catfish would be spoiling things as the film quickly becomes a gripping and fascinating tale.
Not only does it tap into very modern issues about how the web has reshaped human relationships, but it also calls into question the authenticity of what we experience online.
Although I'd heard about the buzz from Sundance, seeing it with a hooked audience as they gasped at many of the twists, made me realise how effective the film is.
Not only is it an unusual and highly accomplished film – the production values are excellent, given the relatively low budget – but it raises questions about what you've just seen.
In addition, my own random encounter with one of the directors and the 'lead' just added to the strangeness.
Over the weekend before seeing it I had imagined all kinds of things about the film. How would it involve Facebook? How real was the story? What was it about this film that made audiences sound like Tyler Durden issuing the first rule of Fight Club?
As the film unfolded in front of me I couldn't help but think about my own random encounter and how it ignited more thoughts and questions about the film.
Nearer to the UK release I'll write a longer piece with spoilers, but for the moment Catfish gave me one of the most interesting cinema experiences I've had this year.
Catfish opens in the UK on Friday 17th December 2010
> Official site
> Catfish at the IMDb