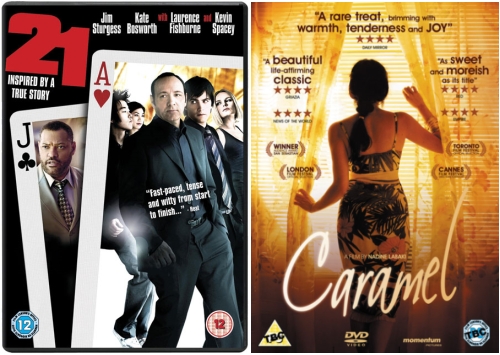 DVD PICKS
21 (Sony): Based on the best selling book Bringing Down the House by Ben Mezrich, this is tells the story of the MIT Blackjack Team who won millions in Las Vegas counting cards. Jim Sturgess plays a talented student who is persuaded to join a group of maths students (who include Kate Bosworth, Aaron Yoo and Liza Lapira) headed up by a professor (Kevin Spacey) who orchestrates lucrative weekend trips to Vegas casinos. Directed by Robert Luketic, it has changed some aspects of the book but is still a breezily entertaining caper with some nice performances from Spacey and Laurence Fishburne in a supporting role. It is Sturgess though, who stands out in the lead role and he could well go on to have a successful Hollywood career. [Also available on Blu-ray]
* Listen to our interviews from back in April with Jim Sturgess, Kate Bosworth and Kevin Spacey about 21 *
Caramel (Momentum): This debut film by Lebanese writer/director and actress Nadine Labaki explores the lives of five women working together in a Beirut beauty parlour is a charming and eye-opening treat. Refreshingly free of many of the cliches that dog films set in the Middle East, it manages to make some salient points about women in that region of the world. But it is also a spirited portrayal of different characters finding solidarity with one another. What's perhaps most impressive is the series of fine performances that Labaki has drawn from her non-professional cast who imbue the film with a rare energy and spirit.
[ad]
ALSO OUT
Arctic Tale (Paramount): A documentary about a polar bear cub and a walrus pup narrated by Queen Latifah.
B.T.K. (Lionsgate): A film based on the real life of Dennis L. Rader, the notorious serial killer who brutally bound, tortured and killed his victims.
Botched (Optimum): A zany horror film set in Russia about a professional thief (Stephen Dorff) who finds himself dealing with serial killers, insane hostages and double-crossing psycho Russian hard men.
Brave Story (Optimum): Koichi Chigira directs this Gonzo animation studios production about an 11-year-old who is told he can change his destiny by entering a magic gateway into another world.
Caught (Second Sight); A re-release for director Max Ophuls' 1949 drama about a young secretary (Barbara Bel Geddes) married to millionaire (Robert Ryan) who falls in love with her employer (James Mason).
CSI: Miami – Season 5 Part 2 (Momentum): The second part of the 5th season of the Miami version of the popular forensics drama.
Grindhouse Trailer Classics 2 (Nucleus Films): Another compilation of trailers from cult and exploitation (or 'grindhouse') movies including promos for The Black Gestapo, The Depraved, Bloody Pit Of Horror, The Pink Angels, Foxy Brown.
In the Night Garden: Hello Tombliboos! (BBC): The BBC's preschool TV show about excitable, tumbly, knocabout pepper-pot toys gets released by BBC Worldwide.
Journey to the Far Side of the Sun (aka Doppleganger) (Universal): This 1969 sci-fi movie written by Gerry Anderson is set one hundred years into the future when scientists discover an exact duplicate of Earth orbiting on the other side of the sun.
La Ronde (Second Sight): Director Max Ophuls' adaptation of Arthur Schnitzler's play is set in Vienna in the early 1900s and is a series of tales woven together by the Raconteur (Anton Walbrook) as each segment introduces a new character, who then moves on to an affair with another.
Man of the East (Optimum): A western with Terence Hill as a naive young man trying to make a name for himself with the help of his father's three old friends: Monkey (Dominic Barto), Holy Joe (Harry Carey Jr.) and Bull (Gregory Walcott).
Monk Season 6 (Universal Playback): Tony Shalhoub returns as the phobia-laden detective Adrian Monk for the 6th season which includes guest stars such as Alfred Molina, Sarah Silverman and Snoop Dogg.
Navajo Joe (Optimum): Sergio Corbucci's spaghetti western with Burt Reynolds as an avenging Native American called on to help a town fight back against outlaws.
Nothing But A Man (Metrodome): This 1964 drama, directed by Michael Roemer, is a love story about a man (Ivan Dixon) who is forced to confront prejudice and self-denial when he falls in love with an educated preacher's daughter (Abbey Lincoln).
Protégé (Liberation Entertainment): A Hong Kong crime thriller about an ailing druglord (Andy Lau) who is unaware that his protégé (Daniel Wu) is actually an undercover cop.
The Eye (Lionsgate): A US remake of the Pang Brothers film of the same name, this stars Jessica Alba as a woman who after undergoing surgery to restore her sight begins to see inexplicable and frightening images that haunt her.
The Hills Run Red (Optimum): A spaghetti western about two confederate army buddies carrying a shedload of money to help the cause at the end of the civil war when they are set upon by Yankees.
The 2 Sides of the Bed (TLA): A romantic farce, which is a follow up to The Other Side of the Bed.
Tortured (Sony): A thriller about an undercover FBI agent who has to track down a mysterious crime lord's money. Stars Cole Hauser, James Cromwell and Laurence Fishburne.
What Happens in Vegas (Fox): Ashton Kutcher and Cameron Diaz star as two mismatched strangers who – after a wild night in Vegas – find themselves married. But a huge gambling win complicates the anullment and a judge (Dennis Miller) sentences them to six months "hard marriage."
Spooks – Code 9 (Contender): The new BBC Three drama from the producers behind Spooks and Life on Mars comes to DVD the day after the last episode airs.

[ad]
> Buy 21 and Caramel on DVD at Amazon UK
> Browse more DVD Releases at Amazon UK and Play
> Check the latest DVD prices at DVD Price Check
> Take a look at the current UK cinema releases (W/C Friday 5th September)