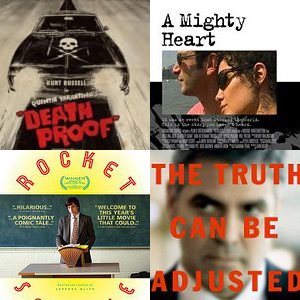 This week we squeeze two week's worth of reviews into one as we'll be taking a break next week.
But in the meantime we examine the following releases:
OUT TODAY
Death Proof – The latest film from Quentin Tarantino starring Kurt Russell as a stunt driver who stalks and kills women in his death-proof car. Originally part of 'Grindhouse' – as a double bill with Robert Rodriguez's Planet Terror – it has been released as a single film in Europe due to that project flopping in the US. About 20 mins extra footage has been added for this release.
A Mighty Heart – A film based on the book by Marianne Pearl documenting the kidnap and murder of her reporter husband Daniel Pearl in Pakistan by Islamic radicals in 2002. Angelina Jolie plays Marianne Pearl, Dan Futterman plays Danny and the Indian actor Irfan Khan stars as 'Captain' the head of the Pakistan police force who try to find him. Michael Winterbottom directs.

OUT NEXT FRIDAY
The Brave One – A vigilante drama starring Jodie Foster as a New Yorker who takes the law into her own hands after being attacked one night. Terrence Howard stars as the cop who has to investigate the case and Neil Jordan directs.
Halloween – Rob Zombie directs this remake of John Carpenter's classic 1978 horror film about a murderous escaped mental patient named Michael Myers. This modern update delves more into Myers' background and adds a lot of gore.
Michael Clayton – George Clooney stars as a New York attorney who gets embroiled in a web of intrigue invloving his bosses and various shady characters. An impressive supporting cast includes Tilda Swinton, Tom Wilkinson and Sidney Pollack whilst the film is written and directed by Tony Gilroy (best know for writing the Bourne movies).
Rocket Science – A quirky drama from director Jeffrey Blitz who scored an unlikely hit on 2002 with the documentary Spellbound. This is his feature film debut but it also deals with high school education as it follows a young student (Reece Thompson) who joins his high school debating team desoite having a stutter.
Listen to the review podcast here:
[audio:http://www.filmdetail.com/podcast/get.php?fla=podcast-2007-09-21-31450.MP3]
Subscribe to the review podcast via iTunes:
> Download this review as an MP3 file
> Get the local showtimes via Google Movies
> Check out other reviews of these films at Metacritic