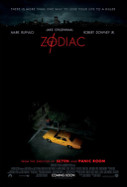 According to DVD Times, Paramount have announced that a director's cut of Zodiac will be available on Region 1 DVD in January:
Paramount Home Entertainment have announced the Region 1 DVD release of Zodiac (Director's Cut) on 8th January 2008.

Based on the actual case files of one of the most intriguing unsolved crimes in the nation's history, "Zodiac" is a thriller from David Fincher, director of "Se7en" and "Panic Room."

As a serial killer terrifies the San Francisco Bay Area and taunts police with his ciphers and letters, investigators in four jurisdictions search for the murderer. The case will become an obsession for four men as their lives and careers are built and destroyed by the endless trail of clues.
If you haven't seen it yet Fincher's brilliant procedural police drama about the Zodiac killings is one of the best films to come out this year.
Unfortunately the recent R1 and the upcoming R2 DVDs were bereft of decent extras. According to David Prior (the producer of the upcoming director's cut) in a post on the Home Theater Forum, this vanilla edition was only reluctantly agreed to by Fincher:
Before you all get too bent out of shape about the staggered release dates of the vanilla and the director's cut, you should be aware that it was only reluctantly agreed to by Fincher because I needed more time on the bonus material.

The studio was locked into their release date (and bound and determined to release a single-disc, which nobody except them wanted), so Fincher allowed that to be released first.

It had nothing to do with Fincher "double dipping his own movie before it even makes it to stores" and everything to do with buying more time for the special edition.

Hope that clears things up. In the interests of full disclosure, you should also know that the theatrical cut will only be available on the single disc.
Apparently the extras on the director's cut will include:
Commentary by Director David Fincher
Commentary by Jake Gyllenhall, Robert Downey Jr., Producer Brad Fischer, James Vanderbilt and James Ellroy
Zodiac Deciphered
The Visual Effects of Zodiac
Digital Workflow
Sequence Breakdowns:

Blue Rock Springs
Lake Berryessa
San FranciscoTrailers and TV spots

The Facts:

This is the Zodiac Speaking
Lake Herman Road
Blue Rock Springs
Lake Berryessa
San Francisco

Prime Suspect:

His Name Was Arthur Leigh Allen
Linguistic Analysis

Jeopardy Surface: Geographic Profiling (6:30 video)
Dr. Kim Rossmo's Geographic Profile of the Zodiac (text-based)
The Psychology of Aggression: Behavioral Profiling (5:30 video)
Special Agent Sharon Pagaling-Hagan's Behavioral Profile of the Zodiac (text-based)
I think its probably best to wait for this edition, even though the theatrical cut is worth seeing for the film alone.
> Zodiac at the IMDb
> Listen to Jake Gyllenhall speak to us about Zodiac
> Check out the trailer for Zodiac
> Reviews of Zodiac at Metacritic
> Digital Content Producer on the digital workflow Fincher employed whilst making Zodiac