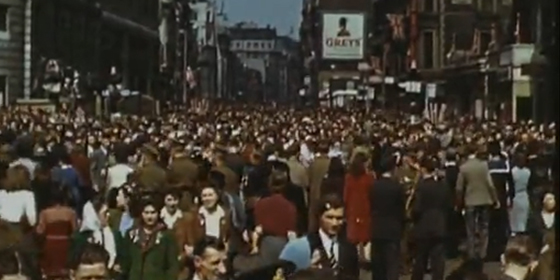 Colour footage from the London Screen Archive shows the victory celebrations of 1945.
Shot on 16mm shot by Lieutenant Sidney Sasson of the US Army Signal Corps (Army Pictorial Service), it shows the victory celebrations in London on VE Day (May 8th 1945) and VJ Day (August 15th 1945).
Among the locations featured are 33 Davies Street, Piccadilly Circus, Charing Cross, and Trafalgar Square.
Look out for the billboard for the James Cagney film Blood on the Sun (1945), which I would guess was showing at the Empire Leicester Square.
> VE Day and VJ Day at Wikipedia
> Imperial War Museum