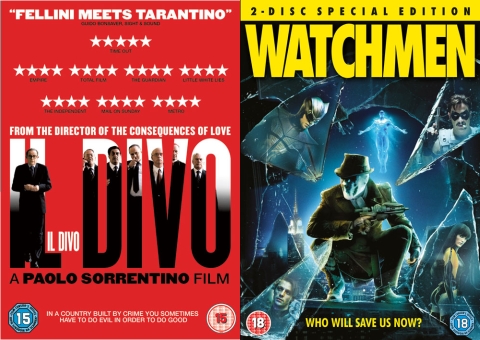 [ad]
DVD PICKS
Il Divo (Artificial Eye): A stunning biopic that explores the extraordinary career of former Italian prime minister Giulio Andreotti.
Spanning the period since the seventh election of Andreotti (brilliantly played by Toni Servillo) as Prime Minister of Italy in 1992, until the trial in which he was accused of collusion with the Mafia.
It was a firm favourite on the festival circuit in the past year and was nominated for the Palme D'Or at the Cannes Film Festival in 2008, where it won the Prix du Jury.
Although at times the action moves so fast that you need a PhD in modern Italian politics, it is brilliantly shot and edited, features a colossal central performance by Servillo and is directed with real panache by Paolo Sorrentino.
Easily one of the best films to be released in the UK this year, it fully deserved all the critical acclaim showered on it.
Extras include:
Anamorphic Widescreen
Stereo and 5.1
English subtitles
The making of Il Divo (31mins)
Additional interviews with director Paolo Sorrentino (29mins)
Special effects featurette (7mins)
Deleted Scenes (12mins)
Trailer
* Listen to our interview with Paolo Sorrentino about the film *
** Win a copy of Il Divo on DVD here *
[ad]
Watchmen (Paramount): The long awaited adaptation of the graphic novel by Alan Moore and Dave Gibbons finally reached cinema screens back in March after 20 years of development hell and legal wranglings and now gets the DVD and Blu-ray treatment.
For those unfamiliar with the story, it explores what happens to a group of superheroes in an alternative 1985 – a place where Richard Nixon is a 5-term president and the world stands on the brink of nuclear Armageddon.
The plot begins with the vigilante Rorschach (Jackie Earle Haley) investigating the murder of a former hero called the Comedian (Jeffrey Dean Morgan), and he uncovers a wider conspiracy involving his now retired colleagues.
The good news is that director Zack Snyder has been given unprecedented freedom with the notoriously 'unfilmable' book after the success of 300.
Visually it is a real treat with some stunning production design and SFX along with some fine performances by Jackie Earle Haley and Billy Crudup.
It runs to 2 hours and 40 minutes, has a sombre tone, keeps much of the heavy flashback material and – even for an 18/R-rated film – contains quite brutal scenes of violence, rape and even full frontal nudity.
Although there is a longer director's cut still awaiting a UK release on DVD, Paramount have included a decent chunk of extras on the 2-disc DVD and Blu-ray versions.
Here is how the extras break down on the three different discs.
The Single-Disc DVD has 16mins of extras (£19.99 RRP):
2.35:1 Anamorphic Widescreen
English DD5.1 Surround
English Audio Description
English, English HOH, Danish, Finnish, Norwegian and Swedish subtitles (Film & Extras)
Mechanics: Technologies of Fantastic World (16:10mins)
The Two-Disc DVD has 110mins of extras (£24.99 RRP) which have the above extras, plus a second disc with the following content:
Subtitles: English, Dutch, French, German, Italian, Turkish, Spanish
The Phenomenon: The Comic That Changed Comics (27:38mins)
Real Superheroes, Real Vigilantes (25:15mins)
Video Journals (Webisodes):
Minutemen (3:27mins)
Sets & Sensibility (3:48mins)
Dressing for Success (2:59mins)
The Ship Has Eyes (4:12mins)
Dave Gibbons (3:16mins)
Burn Baby Burn (2:10mins)
Shoot To Thrill (3:09mins)
Blue Monday (2:55mins)
Attention To Detail (2:49mins)
Girls Kick Ass (2:59mins)
Rorschach's Mask (3:39mins)
Viral Video: 10 Years Of Dr. Manhattan (1970: NBS Special News Report) (3:05mins)
Music Video – My Chemical Romance, Desolation Row (3:09mins)
The Blu-ray Disc is a 3-Disc set with all of the extras from the 2-Disc DVD plus a digital copy of the film.
Audio is 5.1 Dolby TrueHD (£29.99 RRP). It also includes 3 additional viral videos:
The Keene Act & You (1977: US Public Service Announcement)
Who Watches The Watchmen? (1983: Celebrity News Feature)
World In Focus (1985: British Late Night Discussion Programme)
All three releases feature the the 163-minute theatrical cut only (155mins on DVD after PAL speed-up).
* Listen to our interview with Dave Gibbons about Watchmen *
ALSO OUT
A Short Stay in Switzerland (Delta Leisure)
Alone in the Dark II (High Fliers)
Blue Dragon Volumes 3 & 4 (Manga)
Bottle Shock (Paramount)
Coffin Joe DVD Box Set (Anchor Bay)
Columbo The Tenth Season – Volume 2 (Universal Playback)
Comrades (BFI)
Diminished Capacity (Paramount)
Embodiment of Evil (Anchor Bay)
Gilmore Girls Season 4 (Warner)
Knock Knock (DNC)
Lab Rats (2Entertain)
On Thin Ice (2Entertain)
Passengers (Lionsgate)
Personal Affairs (2Entertain)
Robot Chicken: Star Wars Episode II (Revolver Entertainment)
Stargate SG-1: Children of the Gods (Fox/MGM)
The Admiral (Metrodome)
The Omid Djalili Show – Series 2 (2Entertain)
Wonder Woman (2009) (Warner Bros)
[ad]
> Browse more DVD Releases at Amazon UK and Play
> Check the latest DVD prices at DVD Price Check
> Take a look at the current UK cinema releases (W/C Friday 24th July)