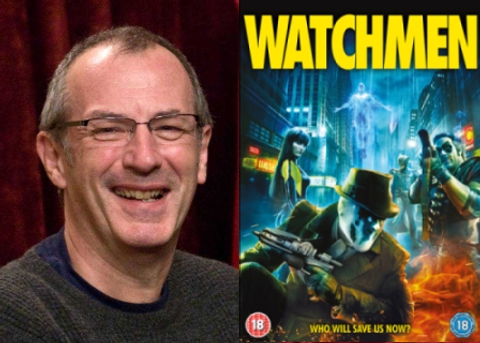 Dave Gibbons is the illustrator of Watchmen, the landmark graphic novel written by Alan Moore, which was adapted for the big screen earlier this year by director Zack Snyder.
Set in an alternate-history 1985, the story follows a group of former vigilante superheroes as tensions heighten between the USA and Soviet Union, while an investigation of an apparent conspiracy against them uncovers something sinister.
Although Moore declined to be involved with the film, Dave was consulted on various aspects, visiting the set and seeing a rough cut.
He also produced the behind-the-scenes book 'Watching the Watchmen' to tie in with the release back in March.
Now with the release of the film on DVD and Blu-ray he will be appearing this weekend at Comic-Con in San Diego, where there will be a screening of the 'director's cut' (which won't be available on DVD for a while), before flying back to London in order to curate a 3-D graffiti art installation on the Southbank next Tuesday (28th).
I spoke with him on the phone recently about the upcoming launch of the DVD, the legacy of the original 12-part graphic novel, the long journey to get it made into a film and the whole business with the squid.
Listen to the interview here:
[audio:http://filmdetail.receptionmedia.com/Dave_Gibbons_on_Watchmen.mp3]
You can also download this interview as a podcast via iTunes by clicking here.
Watchmen is out on DVD and Blu-ray on Monday 27th July from Paramount
> Download this interview as an MP3 file
> Find out more about Dave and his work at Wikipedia
> Buy Watchmen on Blu-ray or DVD at Amazon UK
> Check out more details of the 3-D art installation in London on Tuesday 28th July