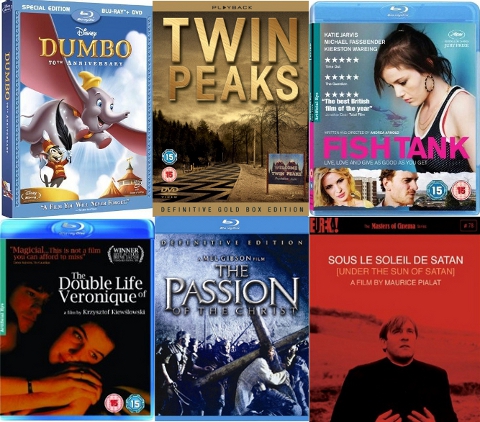 [ad]
UK DVD & BLU-RAY PICKS
Dumbo (Walt Disney): One of the greatest animated films from Disney, this story of a shy little elephant with some large ears arrives on Blu-ray for the first time. Separated from the rest of the circus animals, he befriends a mouse who encourages him to exploit his ears for fame and fortune.
After being goaded by a group of crows, Dumbo discovers that his ears have given him the ability to fly. The animation and writing is magical and the Blu-ray comes with a decent selection of extras including behind the scenes featurettes, bonus short features, and a copy of the DVD. [Buy it on Blu-ray | Buy it on DVD]
Fish Tank (Artificial Eye): Writer-director Andrea Arnold's second feature-length film, and another deeply impressive piece of work after her Oscar winning short Wasp(2005) and Red Road (2006). The tale of a teenage girl named Mia (Katie Jarvis) chronicles her struggle with her mother and younger sister on an poor Essex housing estate.
Frustrated with her life and lack of options, things begin to change when she strikes up a friendship with her mother's new boyfriend (Michael Fassbender). Unlike many British films which feature aristocrats in period costume or gangsters who swear a lot, this takes what seems like humdrum material and does something really special with it. For some reason the Blu-ray is only being released two months after the DVD (read our longer review here), but is well worth buying if you haven't yet seen it. [Buy it on Blu-ray | Buy it on DVD]
Twin Peaks: Definitive Gold Edition (Universal Playback): With Season 2 of Twin Peaks finally being released in the UK, Universal Playback have decided to release Season 1 and Season 2 on a definitive box set. Directed by David Lynch, this series picks up from the first season cliff-hanger that saw Agent Cooper (Kyle Maclachlan) shot repeatedly as he closed in on the mystery surrounding the brutal murder of Laura Palmer (Sheryl Lee).
Twin Peaks originally aired between 1990 and 1991 and quickly became one of the most critically acclaimed and popular TV series around the world. Taking root in popular culture, even today it regularly features in lists of classic TV shows. [Buy it on DVD]
The Double Life of Veronique (Artificial Eye): A 1991 French-Polish drama directed by Krzysztof Kieślowski stars Irène Jacob in a dual role as two women, one in Poland (Weronika) and one in France (Veronique), who have a mysterious connection.
A thoughtful and beautifully constructed film, it has an entrancing central performance from Jacob, some inventive cinematography from Sławomir Idziak and also anticipates the Three Colours Trilogy (1992-94) which cemented Kieślowski as one of the great European filmmakers of his generation. [Buy it on Blu-ray | Buy it on DVD]
The Passion of the Christ (Icon Home Entertainment): Mel Gibson's unflinching and brutal retelling of the final hours of Jesus (Jim Caviezel) was one of the most successful and controversial films of 2004. From a purely technical level there is much to admire in the film: Caleb Deschanel's cinematography, the costumes, make-up and use of the Italian town of Matera, all combine to paint a highly convincing picture of the period.
Even for a non-believer, the spectacle of suffering and persecution is moving, even if Gibson lays it on a bit too relentlessly. The claims of anti-Semitism against the film, fuelled by the depiction of the Jewish priests as Christ killers (as they are in the Gospels), were off-base, although Gibson's drunken rant rant in 2006 gave one pause about his own personal beliefs. [Buy it on Blu-ray | Buy it on DVD]
Under the Sun of Satan (Eureka/MOC): A re-release for this 1987 allegorical drama, adapted from the Georges Bernanos novel of the same name, sees a French priest (Gerard Depardieu) struggle to save the soul of young woman (Sandrine Bonnaire).
An impressive examination of good versus evil, it won the Palme d'Or at the 1987 Cannes Festival, which led to verbal protests from sections of the audience and defiant gesture from director Maurice Pialat. This new release has had a new anamorphic transfer in its original aspect ratio, with new and improved English subtitle translations. The extras are also plentiful with interviews, lengthy featurettes, on set footage and a 36-page booklet. [Buy it on DVD]
[ad]
ALSO OUT
Blood On Satan's Claw (Odeon Entertaiment) [Buy it on DVD]
Bodysong (BFI) [Buy it on DVD]
Bullet Boy (Verve Pictures) [Buy it on Blu-ray | Buy it on DVD]
Galaxy Quest (DreamWorks) [Buy it on Blu-ray]
Harry Brown (Lionsgate UK) [Buy it on Blu-ray | Buy it on DVD]
Katyn (Artificial Eye) [Buy it on Blu-ray | Buy it on DVD]
Paranormal Activity (Icon) [Buy it on Blu-ray | Buy it on DVD]
Patti Smith: Dream of Life (Drakes Avenue Pictures) [Buy it on Blu-ray | Buy it on DVD]
Scott Walker: 30 Century Man (Verve Pictures) [Buy it on DVD]
Star Trek: The Motion Picture (Paramount) [Buy it on Blu-ray]
Star Trek 5 – The Final Frontier (Paramount) [Buy it on Blu-ray]
Star Trek: First Contact (Paramount) [Buy it on Blu-ray]
Star Trek: Generations (Paramount) [Buy it on Blu-ray]
Star Trek: Insurrection (Paramount) [Buy it on Blu-ray]
Star Trek: Nemesis (Paramount) [Buy it on Blu-ray]
Straightheads (Verve Pictures) [Buy it on Blu-ray]
Talk to Me (Verve Pictures) [Buy it on Blu-ray]
The Neverending Story (Warner Home Video) [Buy it on Blu-ray]
The Twilight Saga: New Moon (E1 Entertainment) [Buy it on Blu-ray | Buy it on DVD]
Twin Peaks: Series 2 (Universal Playback) [Buy it on DVD]
Zidane: A 21st Century Portrait (Artificial Eye) [Buy it on Blu-ray | Buy it on DVD]
> The Best DVD and Blu-ray releases of 2009
> UK cinema releases for Friday 19th March including The Bounty Hunter, Old Dogs and I Love You Phillip Morris