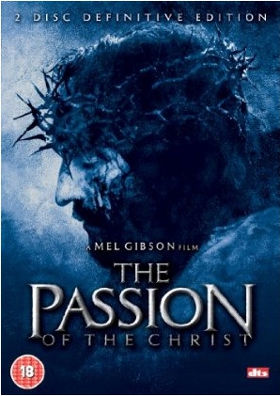 We have 2 copies of The Passion of the Christ to give away on DVD, courtesy of Icon Home Entertainment.
Depicting the last 12 hours of the life of Jesus of Nazareth (Jim Caviezel), it starts with his betrayal by Judas Iscariot (Luca Lionello), his arrest and trial by Pontious Pilate (Hristo Shopov) and culminates with his crucifixion and resurrection.
Directed by Mel Gibson – who funded the film himself and co-wrote the screenplay – it uses flashbacks to a handful of pertinent moments in Jesus' life and teachings, such as the Sermon on the Mount and the Last Supper, as well as his relationships with his mother and his disciples.
Co-starring Maia Morgenstern and Monica Bellucci, it was performed in Aramaic and Latin (with English subtitles) and was became one of the highest grossing films of 2004.
The extras on this 2-disc edition include:
Commentary for the visually impaired (original version only)
Filmmaker Commentary with Mel Gibson, cinematographer Caleb Deschanel and Editor John Wright (original version only)
Production Commentary with Producer Stephen McEveety, Second Unit Director Ted Rae and Visual Effects Producer Kevin Vanderhan (original version only)
Theological Commentary with Mel Gibson, Language Consultant Father William Fulco, Theologians Gerry Matatics and Father John Bartunek (original version only)
Music Commentary with composer John Debney (selected scenes – original version only)
Seamlessly Branched ReCut version of The Passion of The Christ (4:41 shorter)
Biblical pop-up Footnotes (original version only)
His Wounds We Are Healed: Making The Passion of the Christ (21 Chapters – 1:40:15)
Below the Line Panel Discussion (13:49)
Two deleted scenes (Pilate – 2:07, Don't Cry – 2:25) – 4:3 widescreen
Through the Ages (11:56)
Paths on a Journey (9:22)
On Language (12:44)
Crucifixion: Punishment in the Ancient World (17:26)
Anno Domini (10:02)
Production Art
Art Images
Characters and Their Actors
Unit Photography
Trailers and TV Spots
DVD Credits
[ad]
However, to be in with a chance of winning a copy of The Passion of the Christ on DVD just answer the following question:
Which 1993 film was Mel Gibson's first as a director?
The closing date is Monday 12th April and winners will be notified by email.
*UPDATE 11/04/10: We made a mistake with this competition – the year should have read 1993 and not 1995. However, any entries that named Gibson's films from 1993 and 1995 will be included in the final draw. Apologies again. *
The Passion of the Christ is out now on Blu-ray and DVD on Icon Home Entertainment
> The Passion of the Christ at the IMDb
> Buy The Passion of the Christ on DVD and Blu-ray from Amazon UK