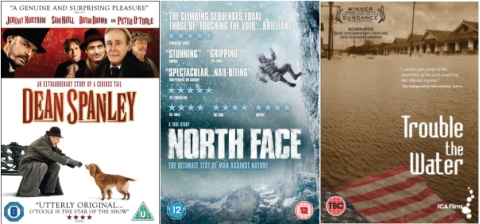 DVD PICKS
Dean Spanley (Icon): A quirky period piece set in the Edwardian era it tells the story of a father (Peter O'Toole) and son (Jeremy Northam) who attend a lecture by a visiting Hindu Swami (Art Malik). There they encounter Dean Spanley (Sam Neill), with whom Henslowe strikes up an unlikely friendship. Based on the 1936 novella by Irish author Lord Dunsany it is directed by Toa Fraser from a screenplay by Alan Sharp.
Extras include:
Stereo and 5.1 Surround audio 
Making of featurette 
Cast and crew interviews
Although it didn't get a huge cinema release, it is well worth getting on DVD.
* Listen to my interview with director Toa Fraser * 
North Face (Metrodome): A tense documentary that relives 48 hours in the lives of the two climbers who scaled the eponymous wall of the Eiger Mountain in 1936. Directed by Philipp Stölzl and starring Benno Fürmann, Florian Lukas and Georg Friedrich.
Extras include:
Making Northface
Visual Effects Of 'Nothface"
Deleted Scenes
Interview With Philipp Stoelzl and Kolja Brandt
The Myth Of The Eiger North Face
Timeline Of Attempts On The Eiger Mountain
Cast & Crew Biographies
Theatrical Trailer
UK Exclusive Trailer
Trouble the Water (ICA): An Oscar-nominated documentary that follows the story of aspiring rap artist and self proclaimed hustler Kimberly Rivers Roberts and her husband Scott as they try to survive the destruction wrought by Hurricane Katrina. 
[ad]
ALSO OUT
A Bunch of Amateurs (EIV)
Afro Samurai: Resurrection (Manga)
Arabian Nights (BFI)
Ashanti (Arrow Films)
Australia (Fox)
Baba Yaga: The Final Cut (Shameless)
Barquero (Optimum)
Bedtime Stories (Disney)
Billy Two Hats (Optimum)
Black Emanuelle 2 (Severin)
Boogeyman 3 (Icon)
City Rats (Revolver)
Cold Prey 2: Resurrection (Momentum)
Cold Prey Boxset (Momentum)
Darwin's Dangerous Idea (2 Entertain)
For Those in Peril (Optimum)
Frost On Sunday (Network)
Gunfight at Dodge City (Optimum)
Hannah Takes the Stairs (ICA)
Henry: Mind of a Tyrant (2 Entertain)
Manhunt – The Complete Series (Network)
My Learned Friend (Optimum)
Odds Against Tomorrow (Optimum)
Paris is Burning (Second Sight)
Shabby Tiger – Complete Series (Network)
Sometimes a Great Notion (Optimum)
Stormy Weather (Network)
Supernatural Season 4 (Warner)
The Canterbury Tales (BFI)
The Decameron (BFI)
The Exterminating Angels (Axiom Films)
The Fall and Rise of Reginald Perrin (2 Entertain)
The King and Four Queens (Optimum)
The L Word Season 5 (Fox)
The Private Life of Henry VIII (Network)
The Promise (Momentum)
The Small Back Room (Optimum)
Time Trumpet (2 Entertain)
Trouble Brewing (Optimum)
What Just Happened (Pathe)
Zulu Dawn (Arrow Films)
[ad]
> Buy Dean Spanley, North Face and Trouble the Water at Amazon UK
> Browse more DVD Releases at Amazon UK and Play
> Check the latest DVD prices at DVD Price Check
> Take a look at the current UK cinema releases (W/C Friday 24th April)