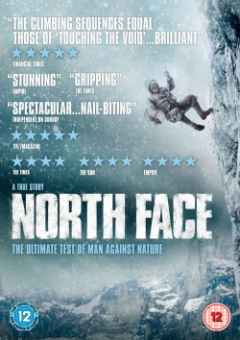 We have 3 copies of North Face to give away on DVD courtesy of Metrodome.
Set in the summer of 1936, it tells the true story of two Germans who try to climb the Eiger mountain's legendary North Face.
The climbing partners are Toni Kurz (Benno Fürmann) and Andi Hinterstoisser (Florian Lukas), who find the temptation irresistible, especially when they find out that the Third Reich is keen to see a swastika flying up top and have despatched party loyalists to begin their ascent.
Based on a true story (told in the 2007 documentary The Beckoning Silence), the film recreates the dangers of climbing one of the most dangerous mountains on earth.
Probably the most visceral exploration of man against mountain since Touching the Void, it was directed by Philipp Stölzl.
Extras include:
Making Northface
Visual Effects Of 'Nothface"
Deleted Scenes
Interview With Philipp Stoelzl and Kolja Brandt
The Myth Of The Eiger North Face
Timeline Of Attempts On The Eiger Mountain
Cast & Crew Biographies
Theatrical Trailer
UK Exclusive Trailer
To stand a chance of winning a copy just answer this question:
Which 1975 Clint Eastwood film also invloved the Eiger mountain?
Just email your answers and postal address to competitions@filmdetail.com
Closing Date: Friday 15th May 2009
North Face is out now on DVD from Metrodome
> North Face at the IMDb
> Find out more about the Eiger mountain at Wikipedia