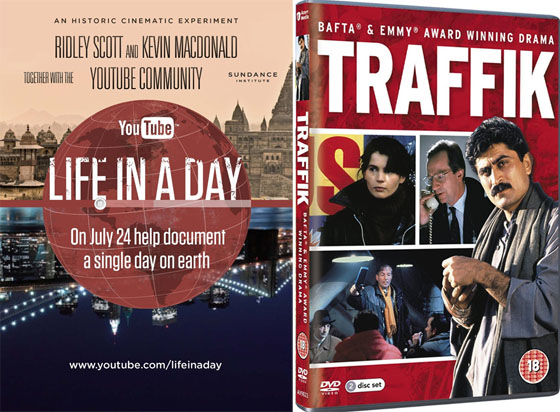 DVD PICKS
Life in a Day (Entertainment One UK): A user-generated documentary sourced from footage shot by thousands of YouTube users on a single day last year – July 24th 2010.
Directed by Andrew MacDonald, the project began as a partnership between the video sharing site and Ridley Scott's company Scott Free, eventually ending up with 80,000 submissions from users around the world.
Although more of an experiment than a regular feature, it is a fascinating document of people around the world and director Andrew MacDonald and his team of editors did a great job of editing down the 4,500 hours of footage.
The end result is only 94 minutes but movingly depicts a wide range of human behaviour from over 140 nations and is given an added kick by the score by Harry Gregson-Williams.
> Life in a Day channel at YouTube
> IMDb link
Traffik (Acorn Media): This classic 1989 TV mini-series broke with tradition by presenting a more global and realistic depiction of the drug trade. Over six episodes it wove three stories involving a Pakistani poppy grower (Jamal Shah) and local drug lord (Talat Hussain); a German smuggler (George Kukura), his wife (Lindsay Duncan) and two cops after him (Fritz Müller-Scherz and Tilo Prückner); and a British politician (Bill Paterson) and his drug addicted daughter (Julia Ormond).
The writing, direction and acting are excellent and it won three BAFTAs and an International Emmy for best drama. Although it was later remade as Traffic (2000), directed by Steven Soderbergh and relocated to Mexico and the US, the original has a greater depth and richness to it.
> Buy Traffik on DVD from Amazon UK
> UK viewers can watch the series for free on 40D here.
ALSO OUT
And Soon the Darkness (Optimum Home Entertainment) [Blu-ray / DVD]
Cabin Fever/The Blair Witch Project (Lionsgate UK) [Blu-ray / DVD]
Drag Me to Hell/Heartless (Lionsgate UK) [Blu-ray / DVD]
Ip Man 2 (Showbox Media Group) [Blu-ray / DVD]
Mad Dogs (2 Entertain) [Blu-ray / DVD]
Madagascar (2 Entertain) [Blu-ray / DVD]
Phenomena (Arrow Video) [Blu-ray / DVD]
Ride Around the World (BPDP) [Blu-ray / DVD]
Saw: The Final Chapter (Lionsgate UK) [Blu-ray / DVD / 3D Edition]
The Kid (Revolver Entertainment) [Blu-ray / DVD]
The Long Kiss Goodnight (Warner Home Video) [Blu-ray / DVD]
WWE: Survivor Series – 2010 (Silver Vision) [Blu-ray / DVD]
> UK cinema releases for Friday 4th March 2011
> The Best DVD & Blu-ray releases of 2010