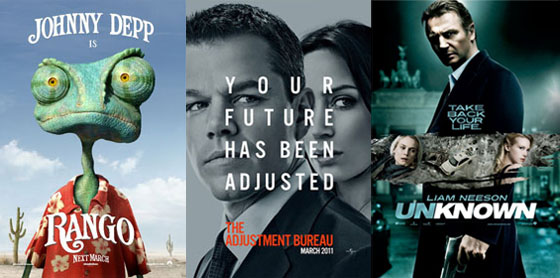 NATIONAL RELEASES
The Adjustment Bureau (Universal): Sci-fi drama/thriller based on a Philip K Dick story in which the affair between a New York politician (Matt Damon) and a dancer (Emily Blunt) is affected by mysterious forces keeping the lovers apart.
Directed by George Nolfi and co-starring Jon Slattery, Anthony Mackie and Terence Stamp this is a mostly disappointing affair, enlivened only by the two leads and the occasional visual flourish. Audiences will likely be turned off by middling reviews and the fact that it is anything but 'Bourne Meets Inception' as the poster promises with a silly quote from Total Film. [Odeon Leicester Square & Nationwide / 15] [Read our full review here]
Rango (Paramount): Animated film about a chameleon (voiced by Johnny Depp) who aspires to be a swashbuckling hero and finds himself in a Western town plagued by bandits and is forced to literally play the role in order to protect it.
Directed by Gore Verbinski it also features the voices of Isla Fisher, Bill Nighy, Alfred Molina and is produced by Nickelodeon Movies. Early reviews are very positive, which suggests this could be a big hit and an audience favourite. [Nationwide / PG]
Unknown (Optimum Releasing): After the surprise 2008 hit Taken, Liam Neeson stars in another thriller in which he kicks the crap out of dodgy Europeans. This time he plays a man who awakens from a coma, only to discover that someone has taken on his identity and that no one, (not even his wife), believes him.
Mixed reviews might hamper the box office slightly but given that this is basically an unofficial sequel to Taken, it should lure in male audiences eager for some undemanding action. Directed by Jaume Collet-Serra, it co-stars Diane Kruger and January Jones. [Nationwide12A]
Ironclad (Warner Bros.): Medieval action film set in the 13th century about a determined group of Knights who defend Rochester Castle against the tyrannical King John.
Directed by Jonathan English, it stars Paul Giamatti, James Purefoy, Brian Cox, Mackenzie Crook and Kate Mara. It has 18 credited producers, which suggests the financing was a tricky affair. [Nationwide / 15]
The Tempest (Walt Disney): Julie Taymor's version of Shakespeare's play reverses the gender of the lead character to Prospera (Helen Mirren) and stars David Strathairn as King Alonzo, Djimon Hounsou as Caliban, and Russell Brand as Trinculo.
Early buzz on this from the festival circuit has been terrible and it is likely to have a short life at the UK box office, before becoming of interest to academics and teachers. [Key Cities / PG]
ALSO OUT
Archipelago (Artificial Eye): Joanna Hogg's latest film sees middle class people arguing about things on the Isles of Scilly. [Key Cities / 15]
Client 9 (Dogwoof): The latest documentary from Alex Gibney explores the rise and fall of Eliot Spitzer, the former New York Attorney General brought down after a scandal involving a prostitute. [Key Cities]
Patagonia (Verve Pictures): The stories of two women travelling are intercut as one goes through Wales, whilst the other is in Argentina. Directed by Marc Evans, it stars Matthew Rhys, Nia Roberts and Duffy, in her acting debut.  [Odeon Covent Garden & Key Cities / 15]
Babies (Optimum Releasing): A look at one year in the life of four babies from around the world, from Mongolia to Namibia to San Francisco to Tokyo. [Key Cities]
The Insatiable Moon (Blue Dolphin Films): A drama about a self-proclaimed 'son of god', directed by Rosemary Riddell.
The African Queen (Park Circus): BFI reissue for the 1951 drama about two missionaries (Humphrey Bogart and Katherine Hepburn) in East Africa during World War I. Directed by John Huston.
Eleanor's Secret (Soda Pictures): French animated film.
> Get local cinema showtimes at Google Movies or FindAnyFilm
> UK DVD & Blu-ray releases for Monday 28th February 2011, including Another Year and Waste Land