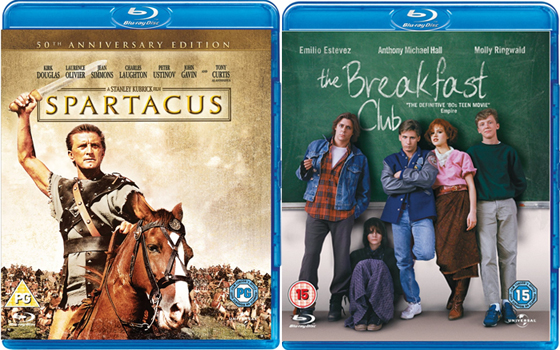 DVD & BLU-RAY PICKS
Spartacus (Universal Pictures): The Roman epic about a rebellious slave (Kirk Douglas) purchased by the owner (Peter Ustinov) of a school for gladiators featured an all star cast (Laurence Olivier, Jean Simmons, Tony Curtis and Charles Laughton) and was also the first major Hollywood production for Stanley Kubrick, who replaced the original director Anthony Mann.
Although Kubrick later expressed misgivings about the final film, it received 4 Academy Awards, including Best Supporting Actor for Ustinov. The performances, bold Technicolor visuals and memorable setpieces made it click with audiences and critics.
Co-written by the blacklisted screenwriter Dalton Trumbo, it also carried a defiant subtext about the opression of the 1950s and how Hollywood cravenly surrended to anti-Communist hysteria – it isn't a stretch to see the Romans as the bosses and the slaves as the creatives.
Strangely, this Blu-ray doesn't feature all the extras that were on the 2001 Criterion edition, though some have made it over.
Extras include:
Deleted scenes
Interview with Peter Ustinov
Interview with Jean Simmons
Behind-the-scenes footage
Vintage newsreels
Theatrical trailer
Production stills
Concept art
Costume designs
Saul Bass storyboards
Posters & print ads
My Scenes
BD Live
> Buy Spartacus on Blu-ray or DVD
> Find out more about Spartacus at Wikipedia, DVD Beaver and IMDb
The Breakfast Club (Universal Pictures): John Hughes' high school drama is probably the best remembered of his numerous films in the 1980s. The story of five students in a day-long Saturday detention sees a princess (Molly Ringwald); a jock (Emilio Estevez); a criminal (Judd Nelson); a brainy nerd (Anthony Michael Hall); and a gothic outsider (Ally Sheedy) slowly form a bond as the day goes on.
Supervised by a hostile principal (Paul Gleason, in a memorable supporting performance), they realise that their differences and teenage anxieties are what bind them together.
Released in 1985, the film struck a chord and continues to chime with teenagers today and evoke a nostalgia for those who saw it at the time. The use of Don't You Forget About Me by Simple Minds has meant that the film has become inextricably linked with the song.
Special features include:
Commentary with Judd Nelson and Anthony Michael Hall
Sincerely Yours – 12 Part Documentary
The Most Convenient Definitions: The Origins of the Brat Pack
Reversible Sleeve.
> Buy The Breakfast Club on Blu-ray or DVD from Amazon UK
> Find out more about The Breakfast Club at Wikipedia and IMDb
ALSO OUT
Backdraft (Universal Pictures) [Blu-ray / Normal]
Daylight (Universal Pictures) [Blu-ray / Normal]
Definitely, Maybe (Universal Pictures) [Blu-ray / Normal]
Devil (Universal Pictures) [Blu-ray / Normal]
Doctor Who – The New Series: A Christmas Carol (2 Entertain) [Blu-ray / Normal]
Intolerable Cruelty (Universal Pictures) [Blu-ray / Normal]
Lemmy (Entertainment One) [Blu-ray / Normal]
Liar Liar (Universal Pictures) [Blu-ray / Normal]
Meet Joe Black (Universal Pictures) [Blu-ray / Normal]
My One and Only (EV) [Blu-ray / Normal]
Notting Hill (Universal Pictures) [Blu-ray / Normal]
Out of Africa (Universal Pictures) [Blu-ray / Normal]
Shakespeare in Love (Universal Pictures) [Blu-ray / Normal]
Shogun Assassin: Special Edition (Eureka) [Blu-ray / Normal]
Smokey and the Bandit (Universal Pictures) [Blu-ray / Normal]
The Alps – Climb of Your Life (BPDP) [Blu-ray / Normal]
The Other Guys (Sony Pictures Home Ent.) [Blu-ray / Normal]
Tremors (Universal Pictures) [Blu-ray / Normal]
Two for the Money (Universal Pictures) [Blu-ray / Normal]
Ultimate G's – Zac's Flying Dream (BPDP) [Blu-ray / with 3D Version]
WWE: The John Cena Experience (Silver Vision) [Blu-ray / Normal]
> UK cinema releases for Friday 21st January 2011
> The Best DVD & Blu-ray releases of 2010