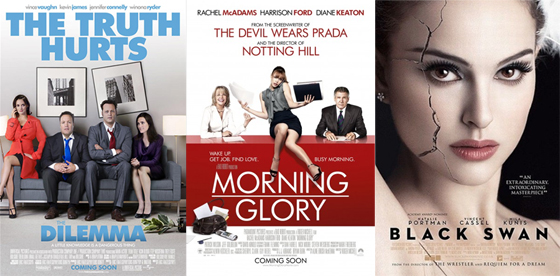 NATIONAL RELEASES
The Dilemma (Universal): Directed by Ron Howard, this comedy is about a Chicago car designer (Vince Vaughn) who discovers that the wife (Winona Ryder) of his best friend and business partner (Kevin James) is having an affair. However, various circumstances prevent him from telling the truth to his friend and this in turn causes problems with his own girlfriend (Jennifer Connelly).
Written by Allan Loeb, it deserves credit for trying to be something more than a run-of-the-mill romantic comedy but several elements conspire against it. The lead characters are not especially sympathetic, which doesn't help when the film tries to be more serious and the idea of James and Ryder as a believable on-screen couple is ludicrous.
There are promising moments but mostly the humour appears to be wearily copied from the Judd Apatow school of comedy: crude slapstick undercut by cheesy life lessons. For a comedy, it has an impressive visual look – shot by Salvatore Totino – but ultimately it drags for much of its running time and just isn't that funny.
Given the lack of buzz, hideous poster and flurry of films out at UK cinemas, Universal will be hoping that undiscerning couples will opt to see this. [Nationwide / 12A]
Morning Glory (Paramount): A comedy-drama about a TV producer (Rachel McAdams) who gets the job working for a US morning show with two contrasting presenters (Diane Keaton and Harrison Ford).
Directed by Roger Michell and written by Aline Brosh McKenna, who penned The Devil Wears Prada, it has some similarities to the 2006 film, with a young woman thrust into a powerful position at a high-pressured workplace. The mixed reviews in the US and lacklustre box office probably mean that UK audiences aren't going to embrace it, despite the startling coincidence of the film's TV show sharing the same name ('Daybreak') with ITV's recently relaunched breakfast programme. [Nationwide / 12A]
Black Swan (20th Century Fox): Darren Aronofsky's dark psychological drama explores the world of a ballerina having a meltdown during a production of Swan Lake. When Nina (Natalie Portman) gets the lead part, various factors start causing her problems, including a suffocating mother (Barbara Hershey), a tyrannical director (Vincent Cassell) and a free-spirited rival (Mila Kunis).
Intriguing parallels with The Wrestler abound: both examine the physical and mental costs of being a performer; show the pressures of ageing; feature a character's desire to connect; and climax with a grand flourish. Black Swan goes further in cranking up the tension and, along with a paranoid, unreliable narrator, there is an unusual amount of visual effects shots that depict the crumbling reality of Nina's world.
Natalie Portman now seems like a strong favourite for the Best Actress Oscar with her captivating central performance. In what is easily the best part of her career, she conveys a believable kaleidoscope of emotions – including fear, aggression and pain – in a relentless push for artistic perfection.
A bold and exhilarating film, it has deservedly reaped a lot of buzz on the festival circuit, although the heightened style is likely to divide general audiences. Given that it has already grossed $76m in the US on limited release Fox will be quietly confident about its prospects over here with upscale audiences and those curious to see what all the fuss is about. [Read our full review here] [Nationwide / 15]
ALSO OUT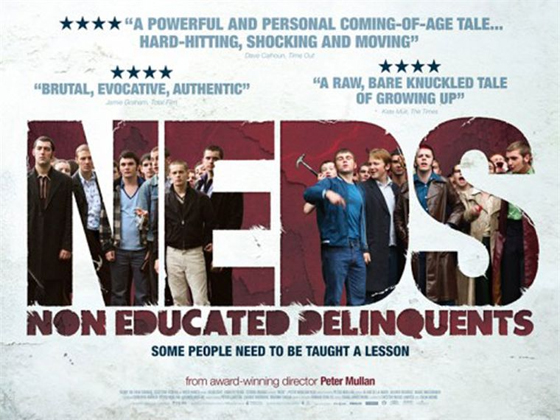 Neds (Entertainment One UK): Peter Mullan's third feature as a writer and director, after Orphans and The Magdalene Sisters, returns him to the 1970s Glasgow of his youth.
The title stands for "Non Educated Delinquents" and is about about a young man's journey from prize-winning schoolboy to knife-carrying youth. The cast features Martin Bell, Linda Cuthbert, Richard Mack and Connor McCarron. [Selected cinemas nationwide / 18]
John Carpenter's The Ward (Warner Bros): The first horror film form John Carpenter in several years involves a young woman (Amber Heard) who is haunted by a mysterious ghost in a psychiatric hospital during the 1960s.
Co-starring Jared Harris, it is very much Carpenter on autopilot with few real scares and an air of predictability hanging over most scenes. [Selected cinemas nationwide / 15]
Get Low (Sony Pictures): A quirky drama about an old man named Felix Bush (Robert Duvall) who lives as a hermit in the woods and surprises the locals by demanding a "living funeral".
This leads to the owner of a local funeral parlor (Bill Murray) agreeing to let the townsfolk tell Felix the stories they've heard about him, but as his 'funeral' gets neaerer he promises to reveal why he has been in the woods for so many years. [Selected cinemas nationwide / PG]
I Spit On Your Grave (Anchor Bay Films): A remake of the 1978 horror film, in which a rape victim (Sarah Butler) goes vengeful rampage against the locals perpetrators. Directed by Steven R. Monroe. [Selected cinemas]
Genius Within: The Inner Life Of Glen Gould (Verve Pictures): A documentary about the acclaimed pianist, directed by Michele Hozer and Peter Raymont.
Breakfast at Tiffany's (BFI): A reissue of the 1961 romantic comedy starring Audrey Hepburn and George Peppard.
Honeymooner (Soda Pictures): British film about a twenty-something man (Gerard Kearns) who tries to get his life back on track after a marriage proposal gone wrong. [Selected cinemas]
The Portuguese Nun (ICA Cinema): Drama about a French actress (Leonor Baldaque) who arrives in Lisbon to film a few scenes from an adaptation of the classic 17th-century text Letters of a Portuguese Nun, which details the eponymous figure's romance with a naval officer.
Ride, Rise, Roar (Kaleidoscope Entertainment): A documentary film following David Byrne and Brian Eno on their tour during 2008–2009, including concert footage and interviews with the musicians and dancers.
Living on Love Alone (BAC Films): French drama from director Isabelle Czajka about a young woman (Anaïs Demoustier) who finds refuge from her soul-destroying jobs with a young actor (Pio Marmaï), who shows her another way to live life.
> Get local cinema showtimes at Google Movies or FindAnyFilm
> UK DVD & Blu-ray releases for Monday 17th January 2011, including Certified Copy and Grindhouse