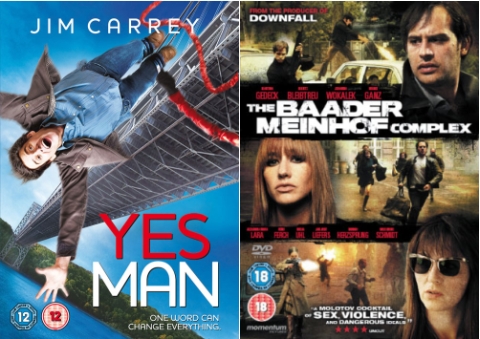 DVD PICKS
Yes Man (Warner): The big screen US adaptation of Danny Wallace's best-selling memoir sees Jim Carrey star as a man who reluctantly signs up for a self-help program that challenges him to say 'yes' to everything and embrace life.
Directed by Peyton Reed, it co-stars Zooey Deschanel and Bradley Cooper. 
The extras on the regular DVD include:
Down Time on the Set of Yes Man – Jim Carrey improvs with the cast, crew, and Director Peyton Reed.
Extreme Yes Man – This piece delves into all of the outrageous stunts
Gag Reel
Exclusive "Munchausen by Proxy" Music Videos: Five full-length music videos showcasing the musical talents of Zooey Deschanel and the Von Iva band.
Uh-Huh (RT: 3:46)
Yes Man (RT: 3:10)
Star Spangled Banner (RT: 1:15)
Sweet Ballad (RT: 2:50)
Keystar (RT: 3:12)
Future Sounds: Munchausen by Proxy – Explore the unlikely story behind the formation of Allison's band, Munchausen By Proxy, from the real San Francisco-based band Von Iva.
The extras on the Blu-ray Disc include all on the regular DVD plus the following exclusive features:
On Set with Danny Wallace: The Original Yes Man – Behind the scenes tour with author Danny Wallace as he interacts with the cast and crew
Yes Man Party Central with Norman Stokes – Comedian Rhys Darby gives us a tour of his apartment in full Harry Potter regalia
Say Yes! To Red Bull – Jim Carrey brings Method Acting to a whole new level as he chugs Red Bull.
Digital copy
* Listen to my interview with Danny Wallace from December *
The Baader Meinhof Complex (Momentum): Germany's official entry for the 2009 foreign-language Oscar explores the creation and actions of the West German terrorist group the Red Army Faction (RAF), which was the most active and prominent terrorist group in post-war West Germany. 
Directed by Uli Edel, it stars Moritz Bleibtreu, Martina Gedeck and Johanna Wokalek and is based on the best selling non-fiction book of the same name by Stefan Aust.
Extras include:
History in the Making: A detailed and exhaustive documentary that examines the making of the film with input from cast and crew.
On Uli Edel: This takes a look at the career of the director and why the events of the film were so personal to him. 'The Score' talks with the films composer and looks at the compositional process. 
Filmographies for the cast 
Trailer.
* Listen to my interview with producer Bernd Eichinger about The Baader Meinhof Complex *
[ad]
ALSO OUT
After Henry – Series 3 (Network)
American Dad Volume 4 (Fox)
Behind Enemy Lines: Colombia (Fox)
Being Human (2 Entertain)
Columbus Day (DNC)
Dark Floors (Metrodome)
Doctor Who: Image of the Fendahl (2 Entertain)
Fingerprints (Anchor Bay)
La Gueule Ouverte (Eureka/Masters of Cinema)
Lark Rise to Candleford Series 2 (2 Entertain)
Life's A Trip (Metrodome)
Murder, She Wrote Season 9 (Universal Playback)
Poison Ivy 4: The Secret Society (EIV)
Stone (Severin)
The Day the Earth Stood Still (Fox)
The Myth (Cine Asia)
The Raccoons Season 2 (Fabulous Films)
Transporter 3 (Icon)
Ultra (Drakes Avenue Pictures)
Une Femme Mariée (Eureka/Masters of Cinema)
[ad]
> Buy Yes Man and The Baader Meinhof Complex at Amazon UK
> Browse more DVD Releases at Amazon UK and Play
> Check the latest DVD prices at DVD Price Check
> Take a look at the current UK cinema releases (W/C Friday 17th April)